Do you know what I hate? 
I hate organizing things, so of course, I married someone who loves being a Marie Kondo. I have an entire closet of just gun stuff. 
Not guns, though, because those are in a safe — well organized, and cared for. 
The rest of it, however…
My closet was a massive mess, and I've undertaken the task of organizing it. It needs to be done, but I keep finding things to play with along the way. I'm like a 3-year-old cleaning his room.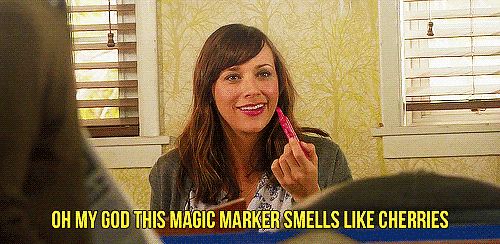 In my task of organizing my gun gear, I've come across several useful items to help the process.
I think they're worth sharing if you undertake the Herculean task of organizing your gun closet. 
Best Gear to Organize Guns, Ammo, and…Gear
1. Plano Ammo Cans
First and foremost, ammo cans offer more versatility than anything on this list.
Without a doubt, I store ammunition of all types in these boxes. You can pile in a few hundred rounds of 9mm or 5.56 and a few dozen shotgun shells.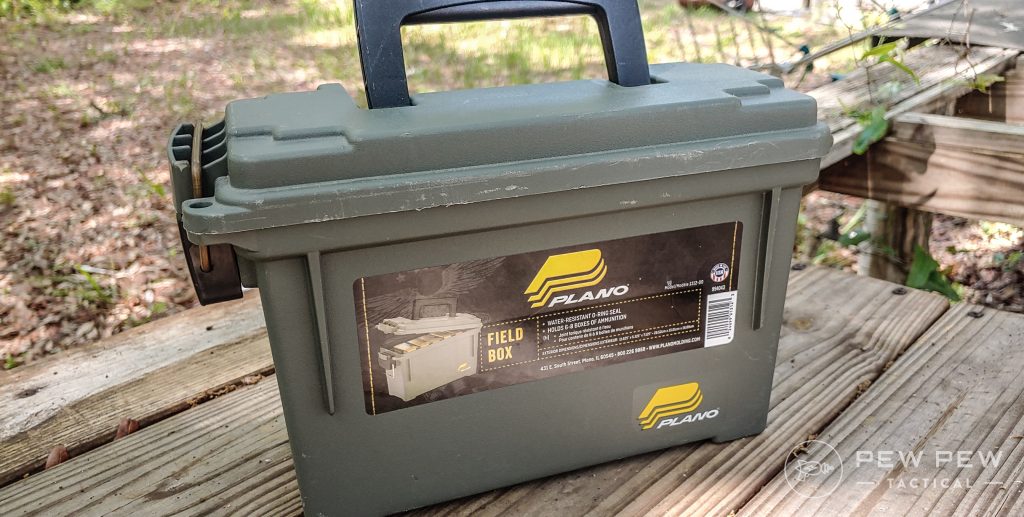 These plastic cans are super cheap and easily stackable.
They make up the core of my gun closet organization. I keep mags, lights, cleaning gear, and ammo in these bad boys and stack them high when possible. 
Relatively cheap, they are well worth the investment.
2. Vinyl Ammo Can Stickers
If you store ammo exclusively in these cans, consider some vinyl ammo can stickers.
They are super cheap on Amazon and, trust me, well worth the investment.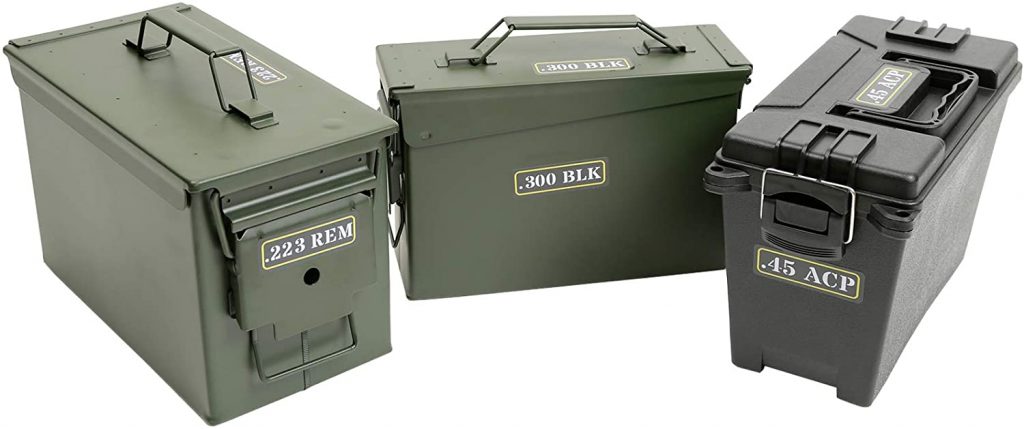 Do you ever get sick of opening ammo cans to find the right ammo? Yeah me too.
These stickers solve that problem by clearly labeling ammo cans with the correct caliber, so, at a glance, you know what's inside.
They've got plenty of common calibers, so you should be set.
9
at Amazon
Prices accurate at time of writing
Prices accurate at time of writing
3. MTM Mag Cans
Got tons of mags? Well, MTM offers an easy and awesome way to store them. 
These mag cans come in a variety of sizes and allow you to organize and store magazines with ease. The cans are stackable, sealed against the elements, and you can secure them via a lock.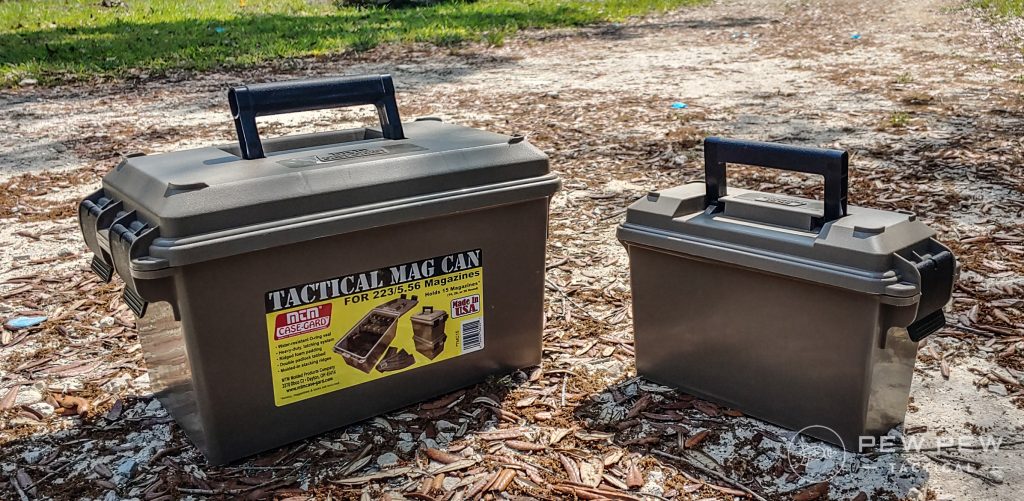 Two locking ports allow you to easily secure loaded magazines away from the hands of kids and others. 
Magazines come in various sizes, and so do the MTM Magazine cans. Each can comes with custom-cut foam to position the magazines in an organized manner.
The most popular and most obvious choice for many of us is the AR-15 variant. It holds 15 AR-15 magazines in a vertical position.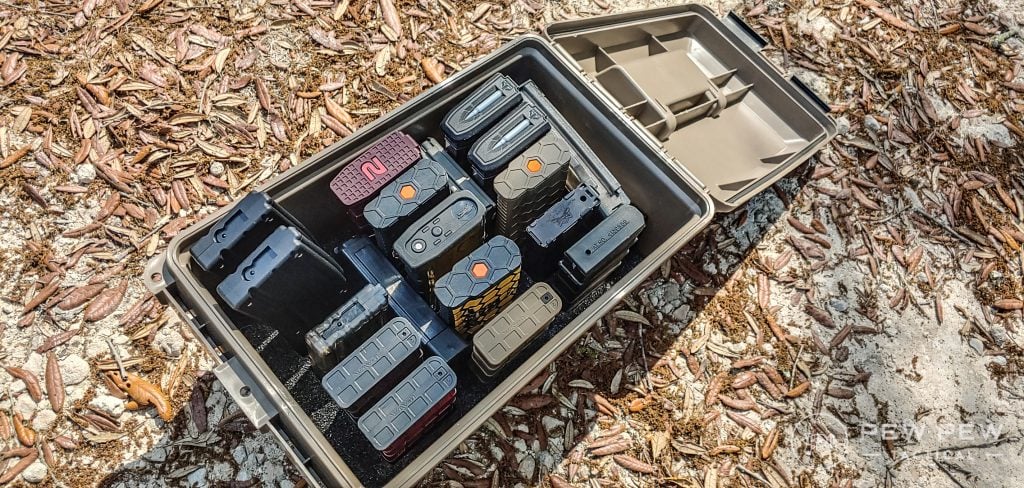 Size-wise you can store 20- or 30-round magazines. Anything taller won't fit.
You can also lay magazines between the magazines to squeeze a few more in. 
This smaller variant allows you to squeeze in 10 double or single-stack magazines.
If you've got some pistol mags that need organizing, opt for the MTM Pistol Mag Can.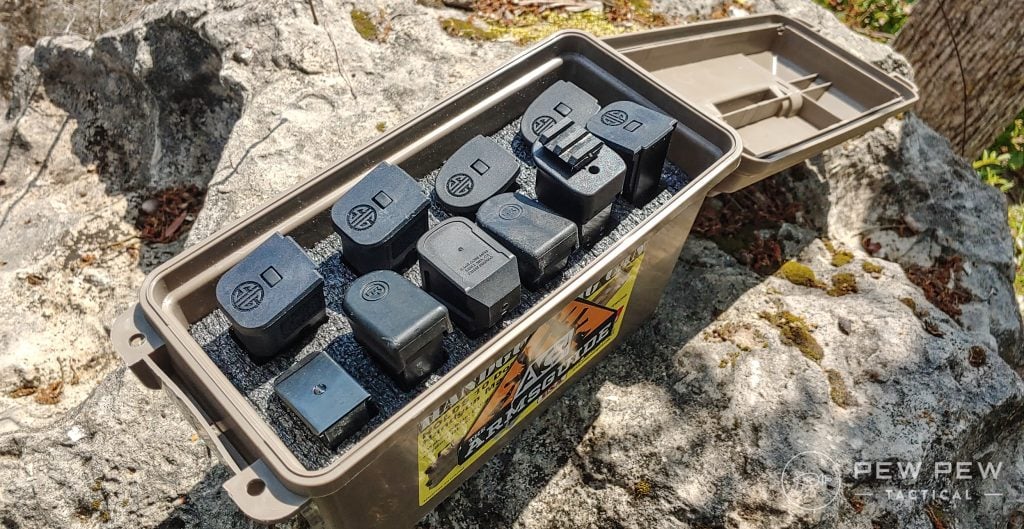 Capacity varies by caliber, obviously. But, don't expect to fit long stick mags in these bad boys.
CZ P09 magazines of the 21-round variety seem to be about as long as you can go. 
For the big boys in the audience, you can store your .308 AR-10, G3, FN FAL, M14, etc. magazines in the .308 Mag Can.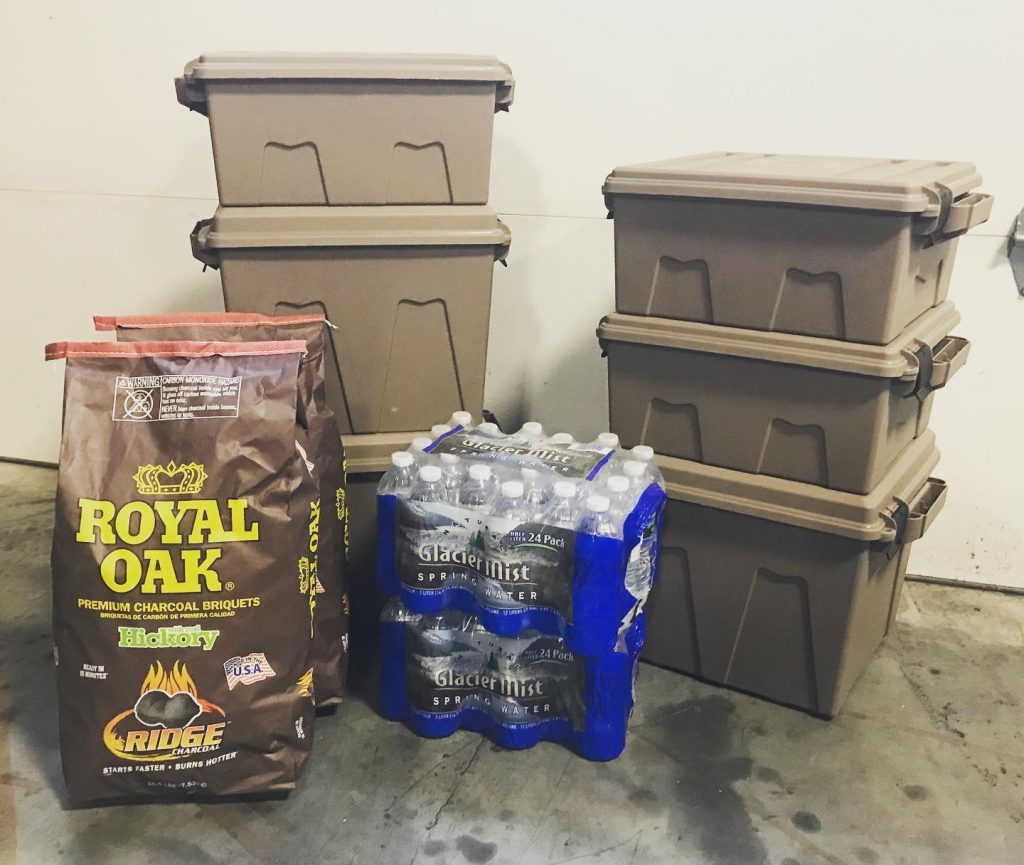 Specifically, 14 magazines up to 25-rounds in capacity.
Let me tell you, 14 fully loaded .308 magazines make this box awfully heavy, though. 
4. MTM Hybrid Can
MTM produces a hybrid can, so you can pack a combination of AR-15 and pistol magazines.
This can would be perfect as a bug-out can. Grab-and-go when the metaphorical poop hits the fan.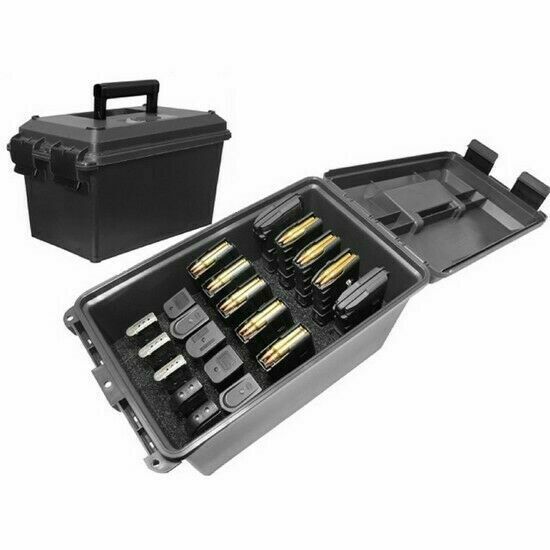 The Hybrid MTM Can holds 10 rifle mags and 10 pistol mags. 
5. MTM Shotshell and Choke Case 
For shotgun bois like me, the MTM Shotshell and Choke case gives you a polymer box capable of carrying 100 rounds of shotgun ammunition packaged in 25-round boxes.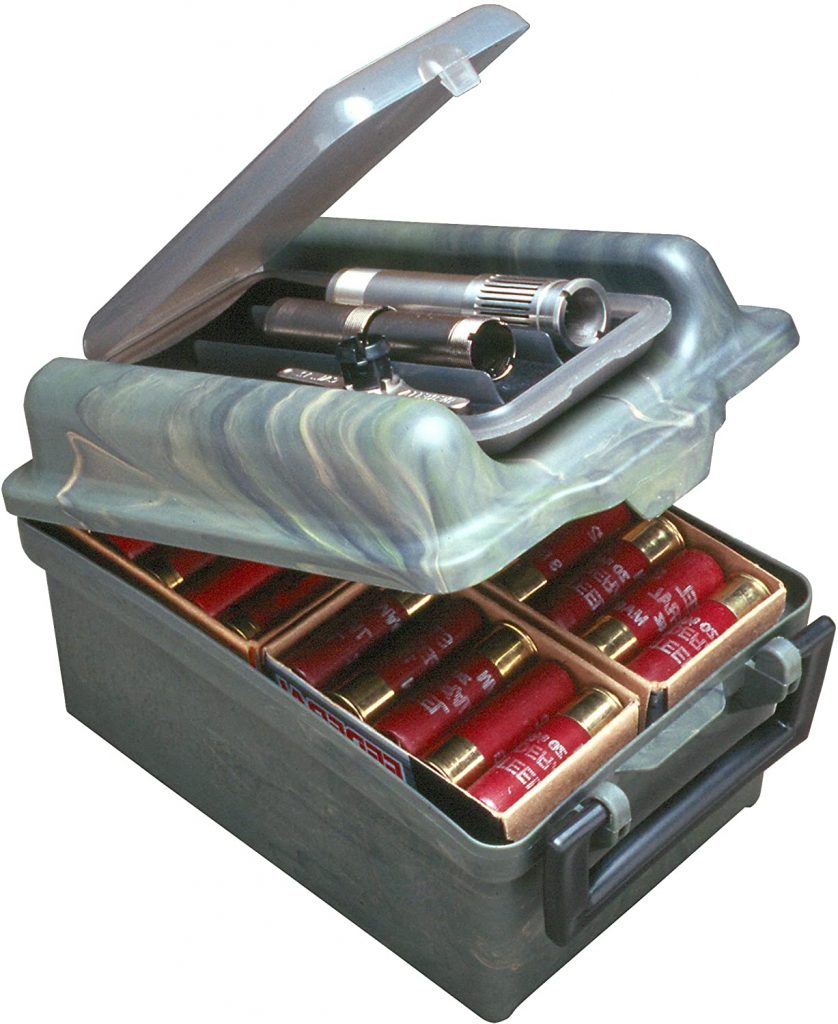 On the top of the box is a small compartment for choke storage. 
Like the mag cans, you can lock it up for safety's sake.
Besides ammo storage, they make ammo transportation easy and keep the ammo protected in environments like wet duck blinds. 
6. MTM Medium-Sized Crate 
Just want a general storage solution for dang near anything? Well, the big ol' MTM crates will function perfectly for that task.
This medium-sized crate is 16-inches long, 7-inches tall, and 20-inches wide.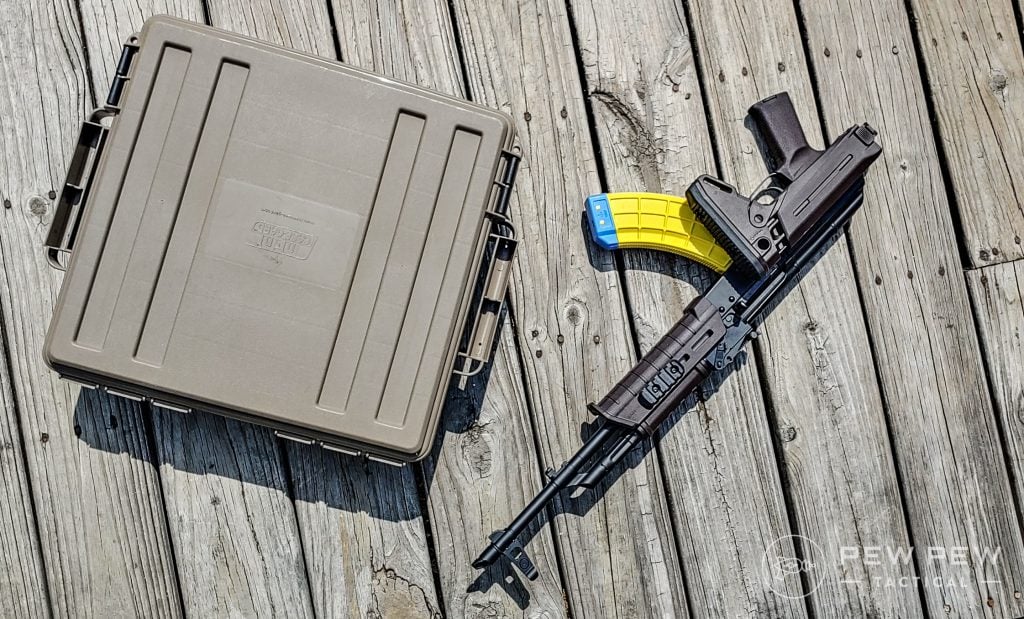 You can fit dozens of magazines in it, knives, optics, lights, batteries, and beyond.
These crates can be locked and are designed to stack.
MTM sealed the inside against the elements — perfect for the long-term storage of anything, from night vision to ammo.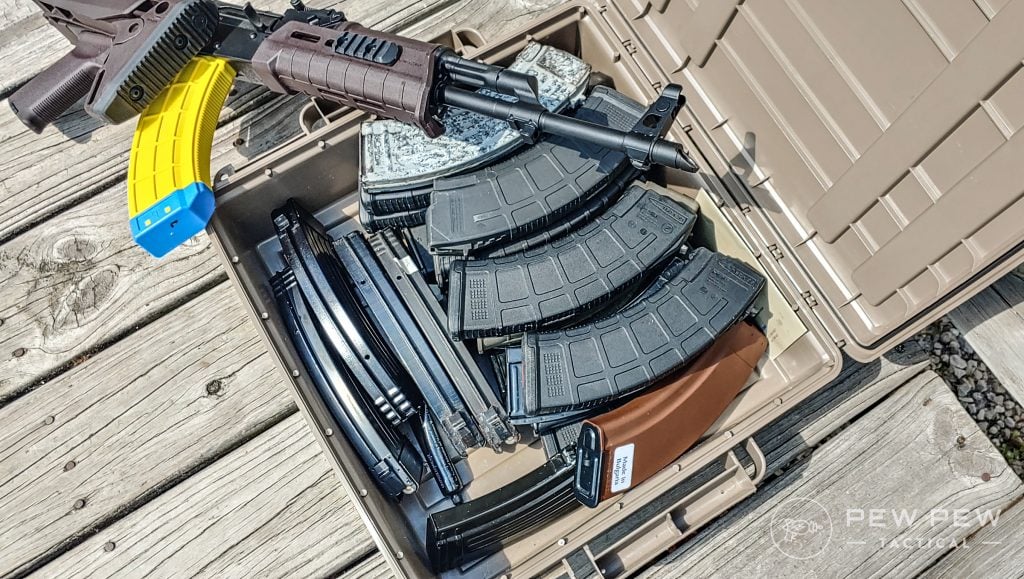 These big crates take up a lot of room, but they provide plenty of storage room.
Plus, they come in all the tactical colors we know and love. 
Have you tried the MTM Ammo Crate Utility Box? If you have, give it a rating below!
7. Case Club Inserts
Let's say you already got the cases. Maybe you picked up some .30 cal or .50 cal ammo cans on the cheap and want to put them to good use.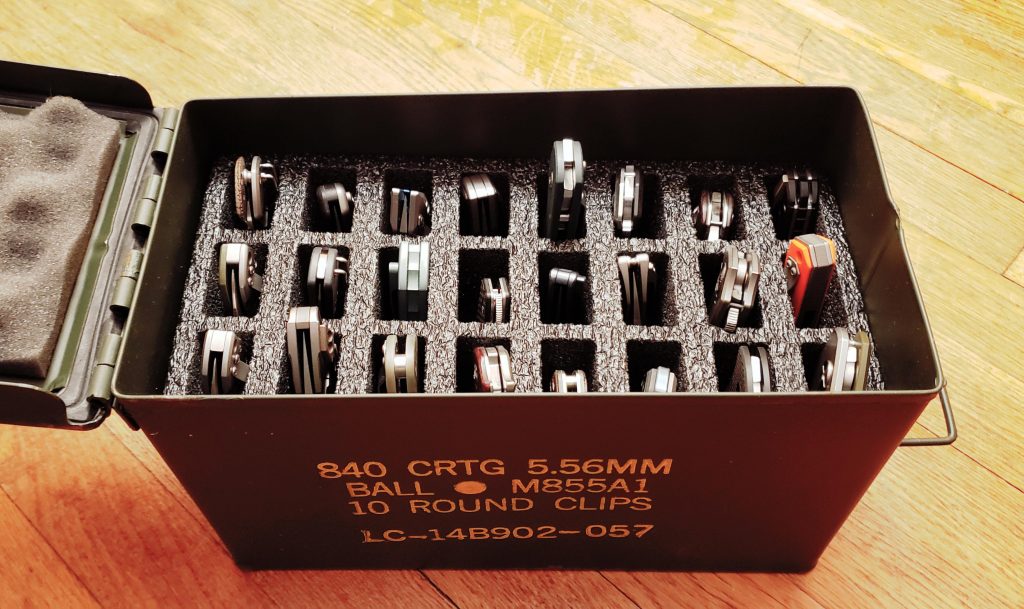 Why not? They are metal, well made, easy to work with, seal easily, and provide a certain aesthetic that's tough to beat. 
In that case, you can purchase custom-cut foam inserts that liven up your ammo cans for better organization.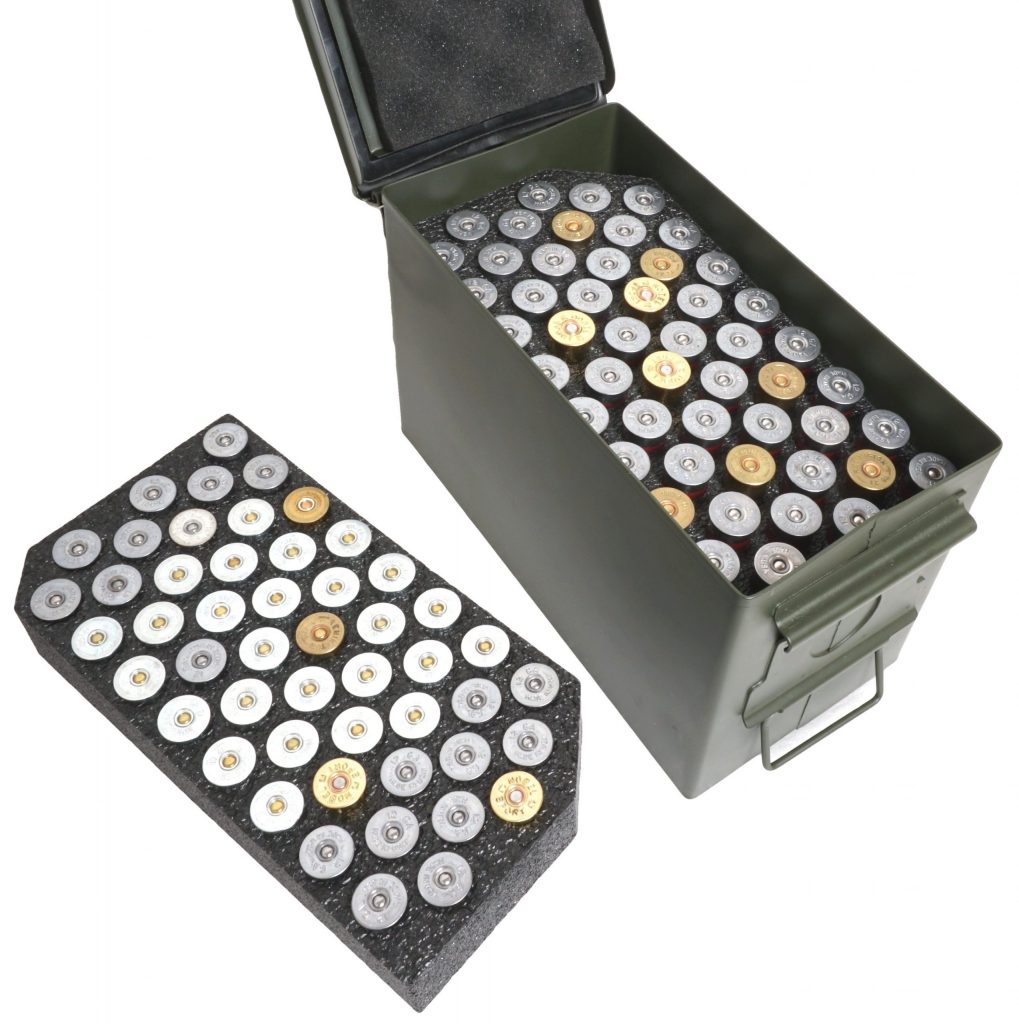 These foam cutouts slip right into the can and can be used to provide custom foam storage for pistol mags.
If you're a shotgunner — they've also got shotgun shell inserts!
8. PMAG Wall Mount 
If you don't mind anchoring a mount into the wall, then this is a handy PMAG storage device.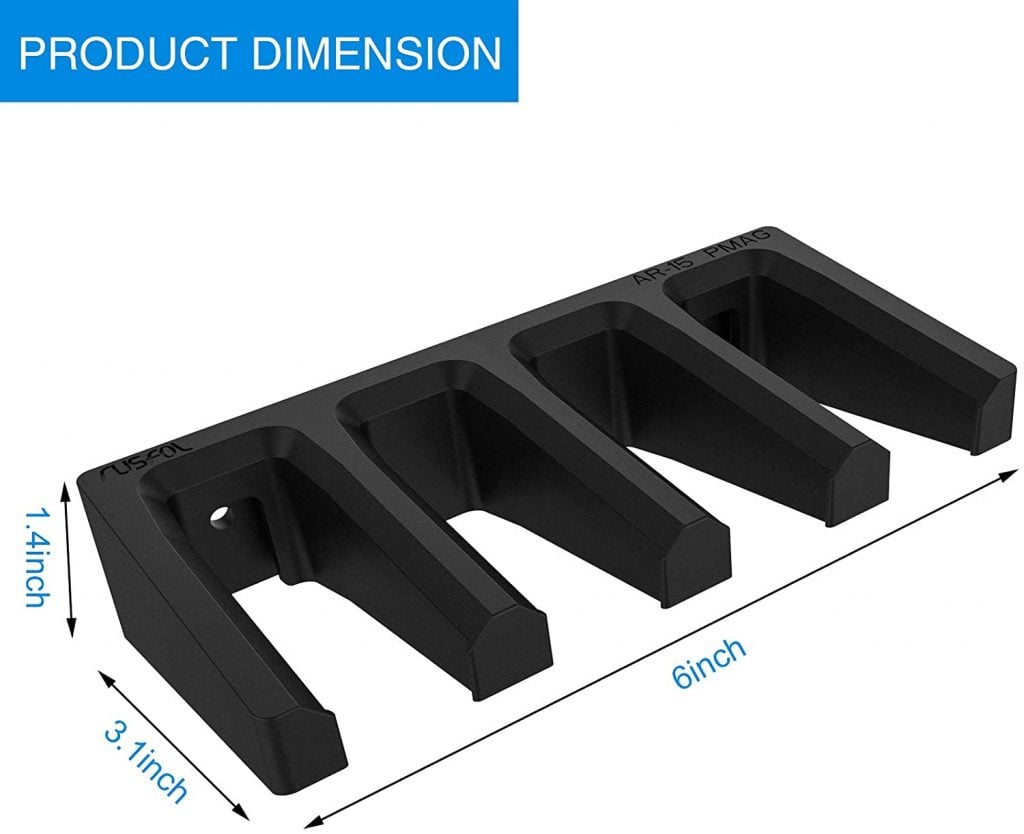 It doesn't play well with other magazines, sadly, but I'm betting most of us rock PMAGs anyway.
This will give your gun closet a very John Wick look.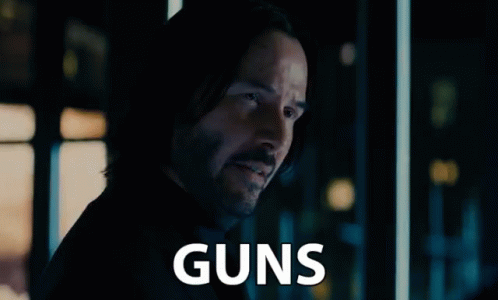 You can mount up to six PMAGs with ease with the ABS mount. It's also affordable and cheap, so buy a few.
Plus, they come with all the mounting hardware you need.
It's a simplistic storage option that's also a little more stylish than throwing them in a can. (Though, not as portable.)
9. Tough Hooks
Tough Hooks are clothes hangers on serious performance-enhancing drugs…like Jose Canseco levels of steroids. 
They're designed to hang up your plate carrier like you hang up your jackets.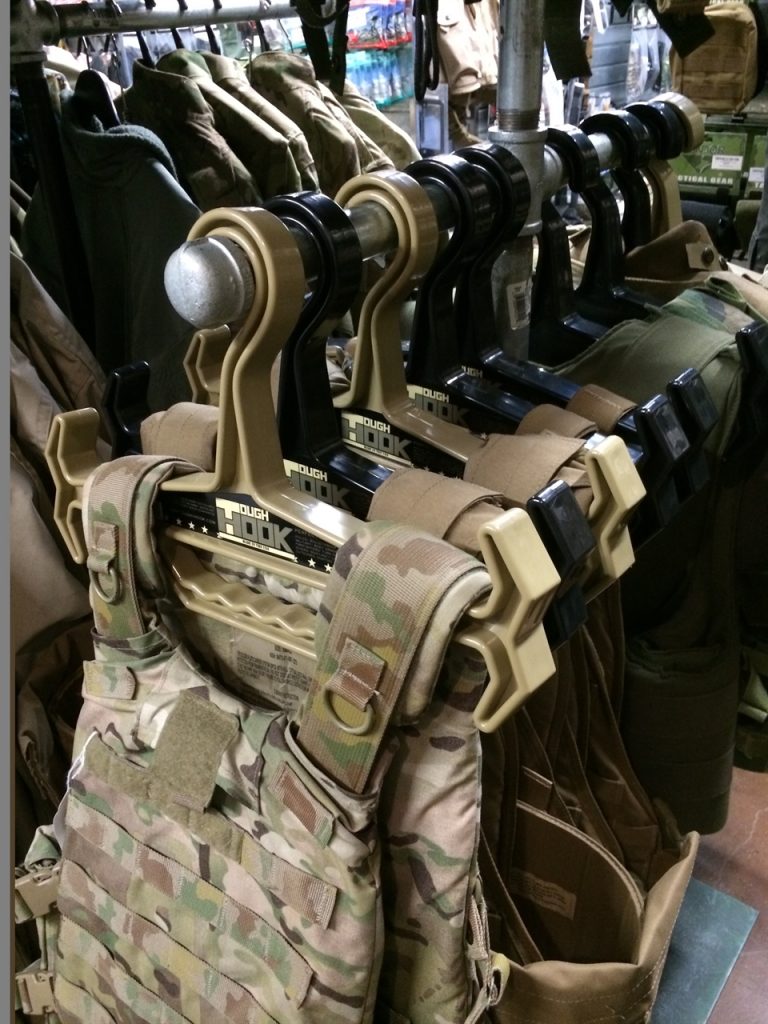 Keep in mind, you'll need a tough place to hang them. But once you've established that, you'll be able to safely store your plate carrier.
These are a must-have for ceramic plates to keep them off the ground and keep that ballistic protection rating high. 
These things can hold up to 150-pounds of gear without tapping out. That's plates, ammo, medkits, lights, knives, admin kit, and more all on one handy hook. 
10. The Battery Organizer 
That's literally what it's called…
I can't blame them for keeping the name simple, though. The Battery Organizer allows me to store 93 batteries of various sizes.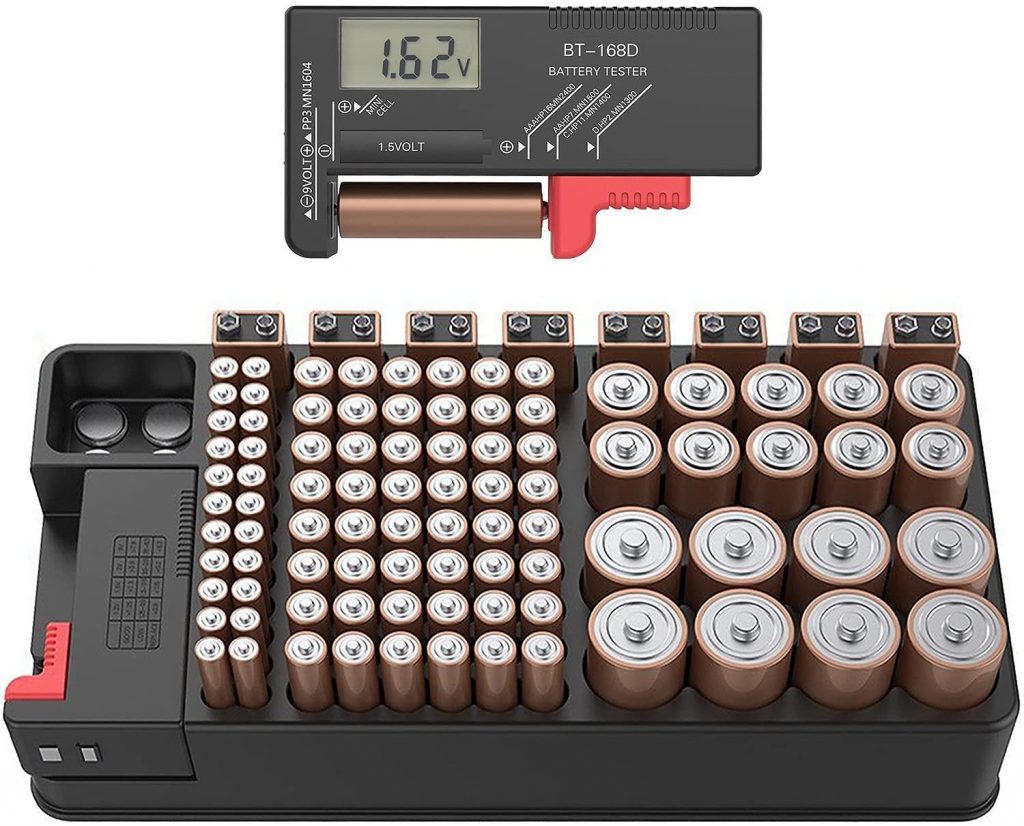 Since the industry likes to use 2032, 1632, CR123s, AAA, AAs, and a smattering of rechargeable batteries…it's nice to store and organize them.
The Battery Organizer also safely stores batteries. You'd be surprised how easy it is to start a house fire with improperly stored batteries. 
The Battery Organizer comes in a few different colors, but sadly, no multicam black. 
How am I supposed to operate at night without a multicam black battery organizer?! 
11. RAPDOM Tactical MOLLE Panel
RAPDOM or Rapid Dominance makes airsoft grade vests and holsters and other random junk I would rarely ever suggest for anything beyond Halloween costumes. 
However, no one is relying on a big MOLLE panel for tactical applications.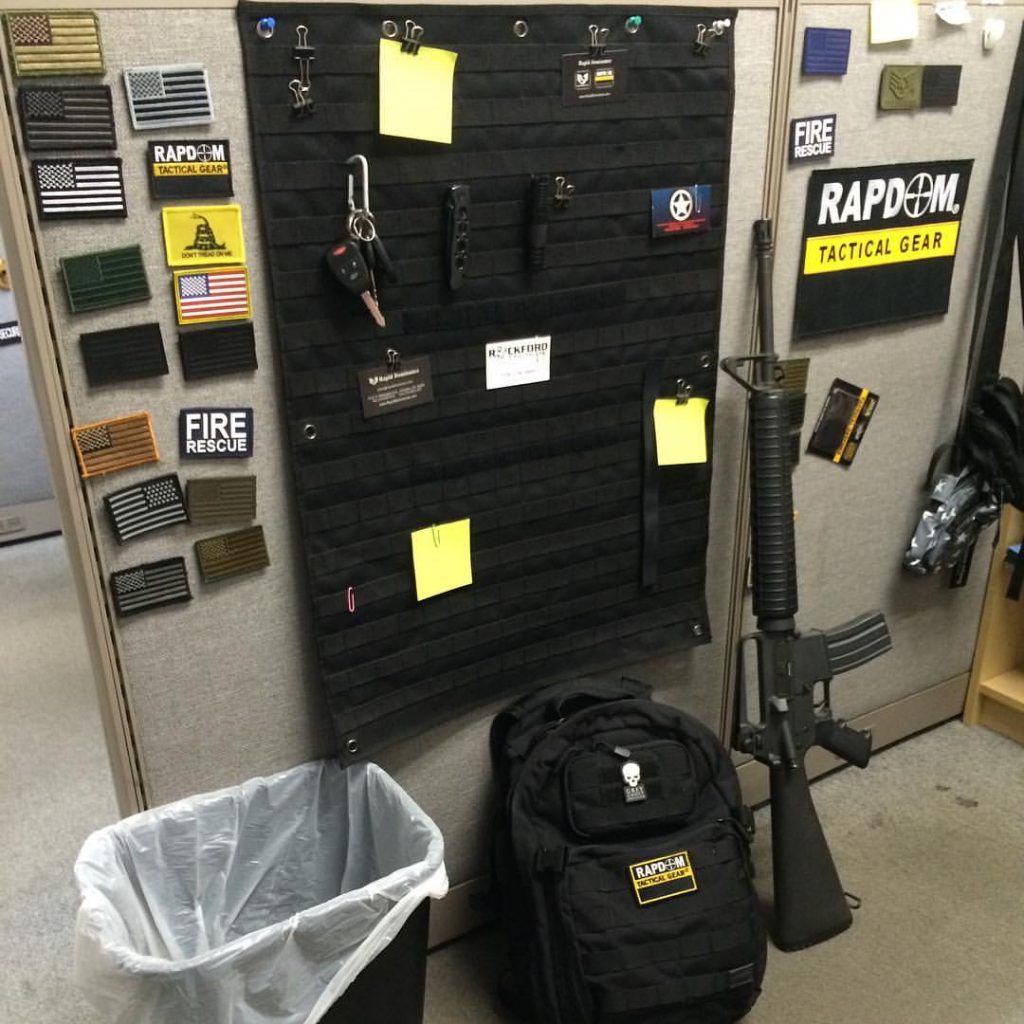 This big ole MOLLE panel can strap to a door, mount to a wall, or wherever. You can attach and organize all your extra magazine pouches, admin pouches, and other MOLLE-compatible gear. 
It's makes finding and swapping your gear between plate carriers easier. Plus, if you pick up a few larger (and likely cheap) MOLLE pouches, you can store whatever you want on the panel itself. 
It's surprisingly cheap and measures 24×32-inches — quite large but not obnoxious. 
12. Got a Spare Handguard…Or a piece of wood?
I found an old Keymod handguard, it happens to work as an awesome means to stash lights, optics, and other rail-mounted gear.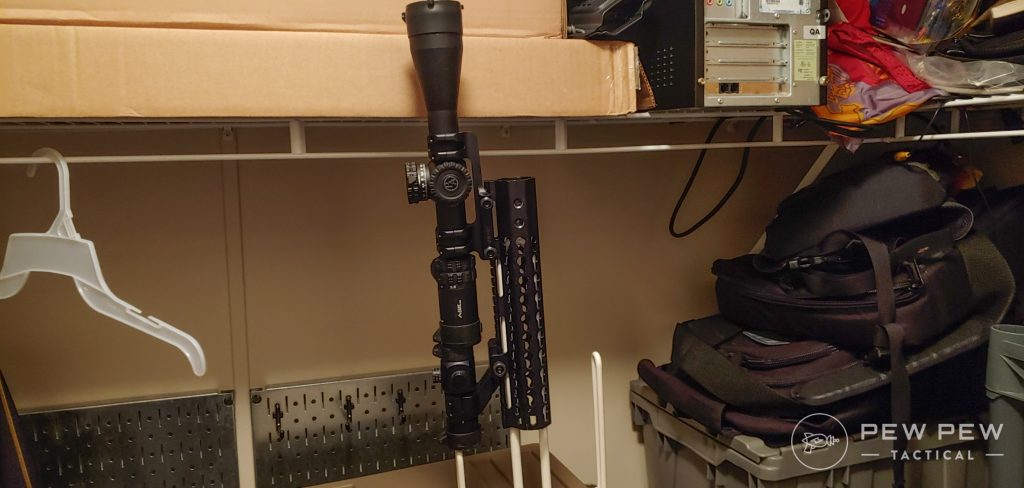 Optics, in particular, worried me before. Glass breaks, and who wants that? 
Attaching optics, lasers, etc., to a handguard and then hanging it keeps the optic safe and makes them easy to access.
It's a veritable buffet once it's rigged up and fitted with all the lights and optics I'm not using. 
You can organize your goods and keep them safe!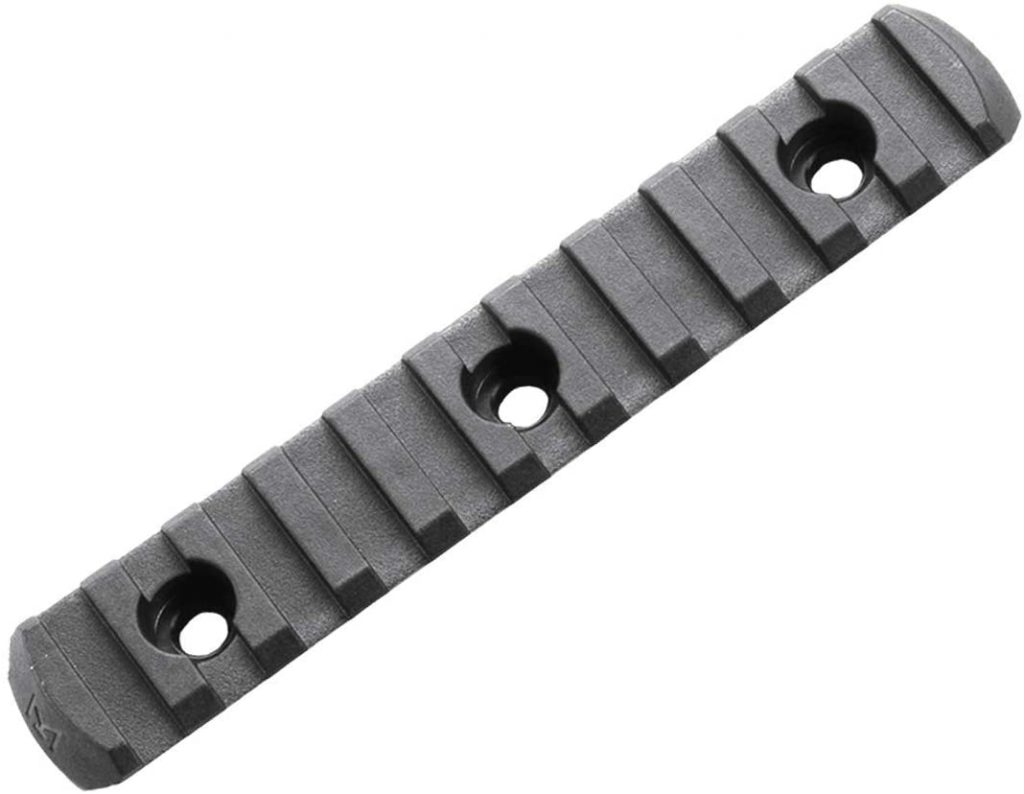 Alternatively, you can attach M-LOK or Keymod rails to a piece of wood and mount your gear as needed. 
If you mount the board somewhere on a wall or a shelf, it's easy to keep your goods safe and accessible. 
Conclusion
Having a lot of junk means organizing a lot of junk. However, it's not all bad.
A little organization goes a long way in protecting your gear and making it easy to find when necessary.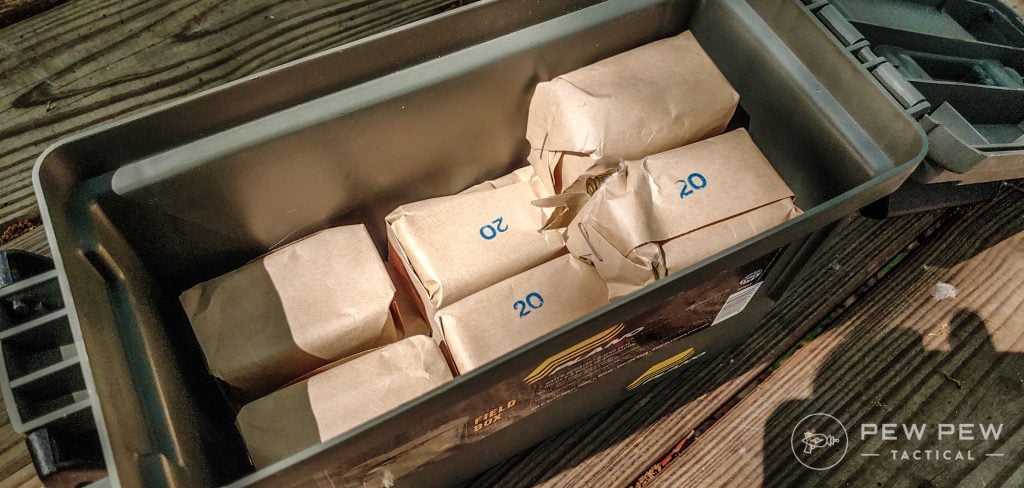 Now that my stuff looks decently organized, I don't have to search for near as long or near as hard. 
I find what I need when I need it. I'm not finished just yet, but I'm well on my way…and so are more MTM cans.
How do you organize your gear? Let us know below. Need some ideas for protecting your guns while on the road? Check out the Best Hard and Soft Gun Cases or Best Car Safes!
Source
Best Ways to Organize Guns, Gear, & Ammo [Guide] is written by Travis Pike for www.pewpewtactical.com