What is the best concealed carry gun? This is a subjective question. 
You'll have the 1911 guys who love that full-sized gun under their bowling shirts.
Meanwhile, the Glock guys prefer the G19 because they feel it's easier to conceal.
So, who's right?
As I said, it's subjective…but personally, I like the weight, size, and concealability of a single-stack 9mm. If you're here, chances are you do too.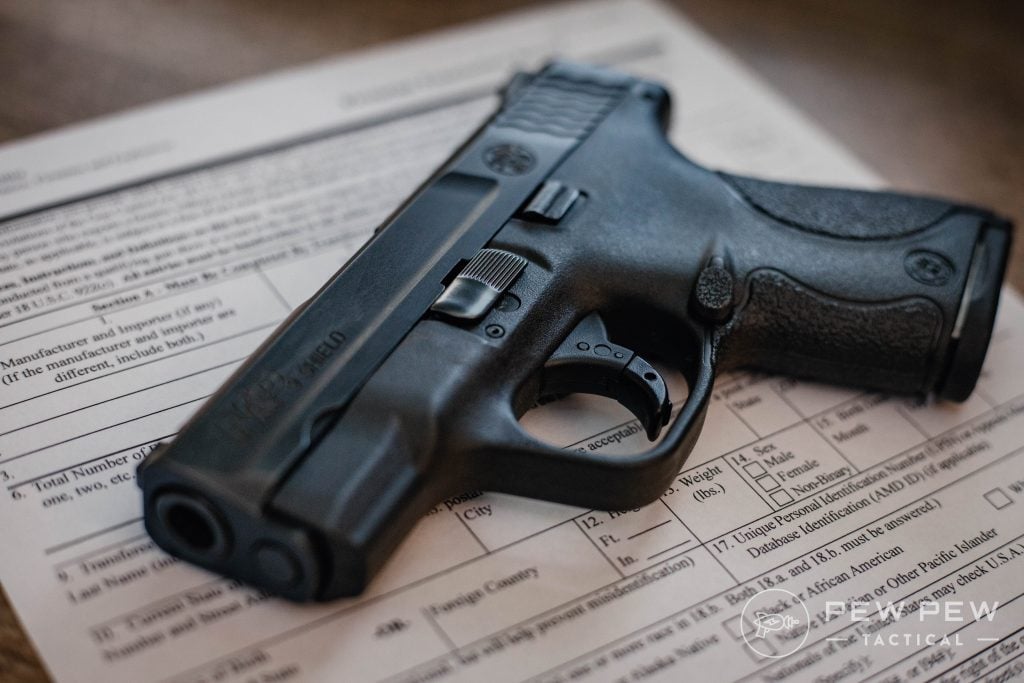 But which single stack should you consider adding to your gun collection?
With plenty on the market, it's not always easy to narrow down. So, let's take a look at some options we think deserve a spot in your gun safe.
Table of Contents
Loading…
What Is a Single Stack?
A single stack magazine has one row of ammo — bullet on top of a bullet.
On the other hand, a double-stack magazine staggers the rounds — essentially making two rows of ammo.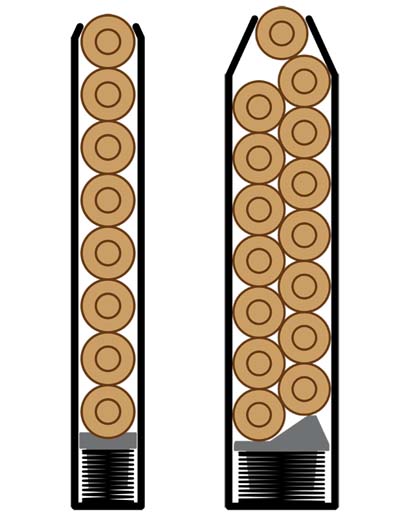 The benefit to a double-stack magazine is more ammo in the magazine.
But the benefit of a single stack magazine is the gun can be thinner overall.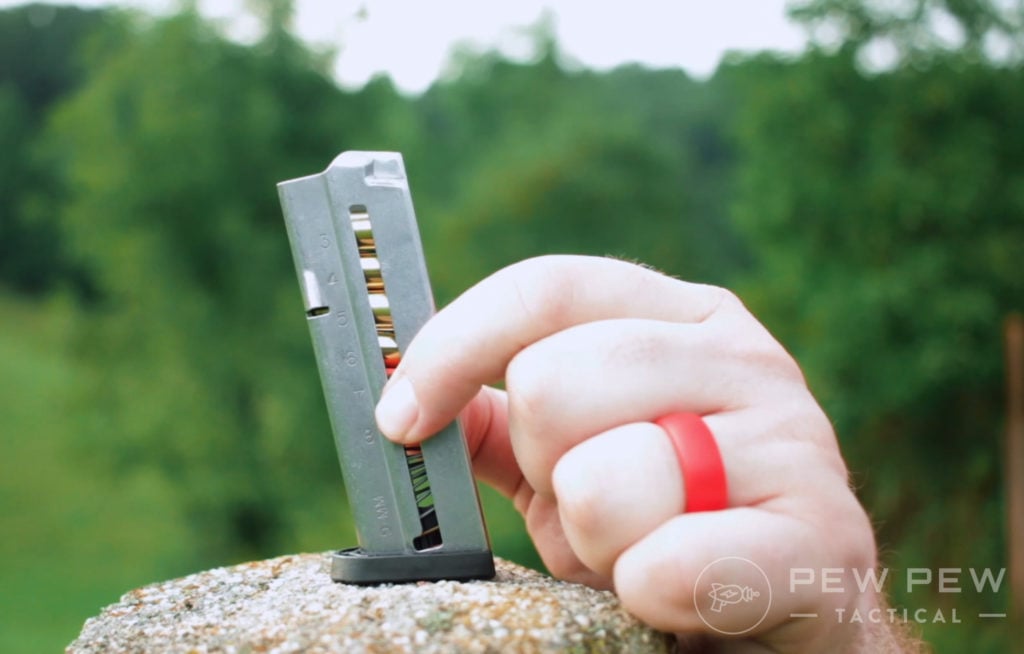 For example, a Glock G26 holds 10+1 rounds and offers a width of 1.18 inches.
In comparison, a Springfield Armory XD-S holds 7+1 rounds and is 0.9 inches wide at the grip. That's a little over a quarter of an inch difference.
I know 0.28 inches might not seem like a lot, but if you set them side by side, it really is.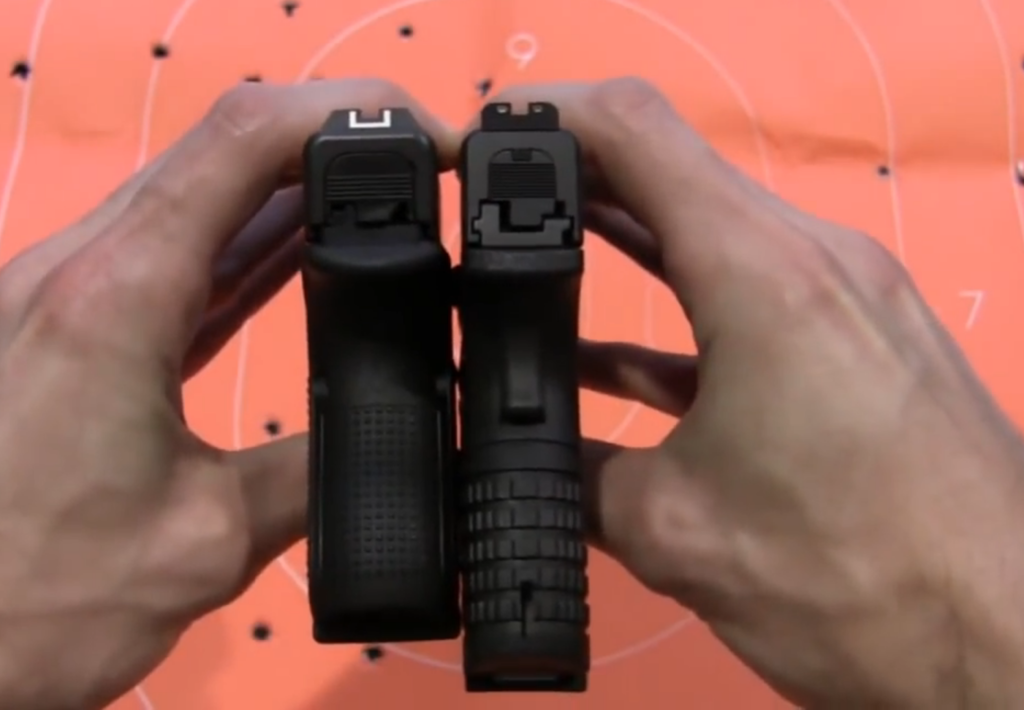 While you lose three rounds, the thinner size makes it easier to hide, an ounce or so lighter, and is more comfortable for some people.
What Makes a Gun a Sub-Compact?
A sub-compact to many people is considered a pocket gun or a backup weapon. Personally, I like the sub-compact size for CCW because they are lighter and easier to carry anywhere.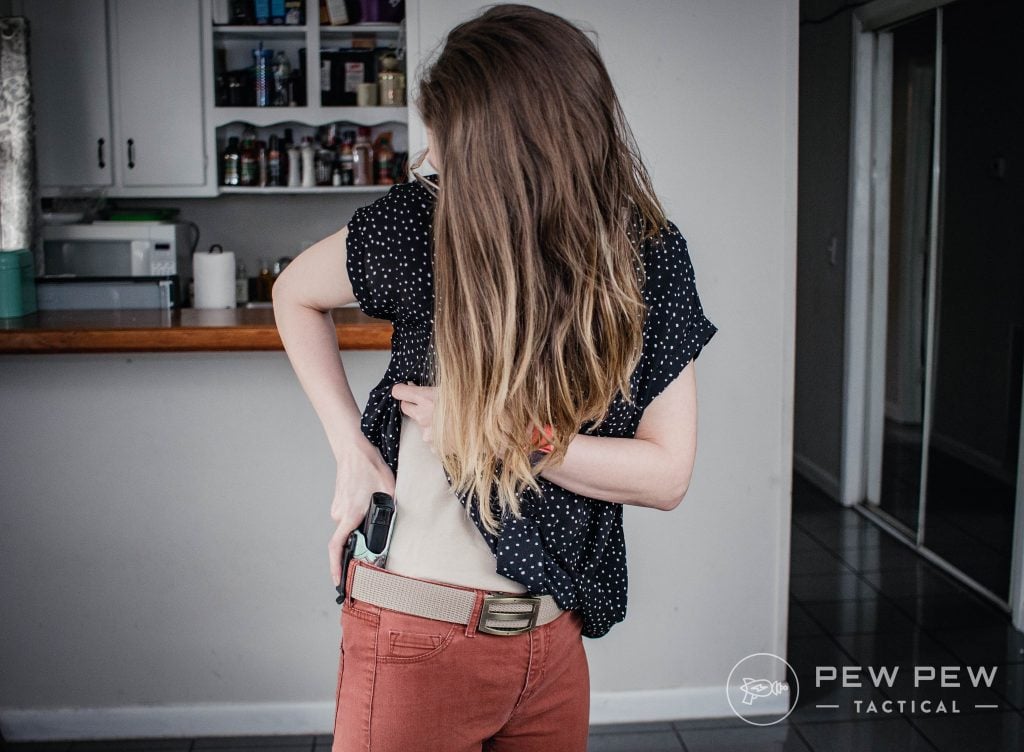 Sub-compact barrels are typically around 3.25 inches, though some are a little longer, some shorter.
The overall length hovers around 6.25 inches, but some with stubby barrels come in at less.
Some sub-compact concealed carry guns feature bigger grips than others. This can be a benefit if you have larger hands or just don't like your little finger left with no place to rest.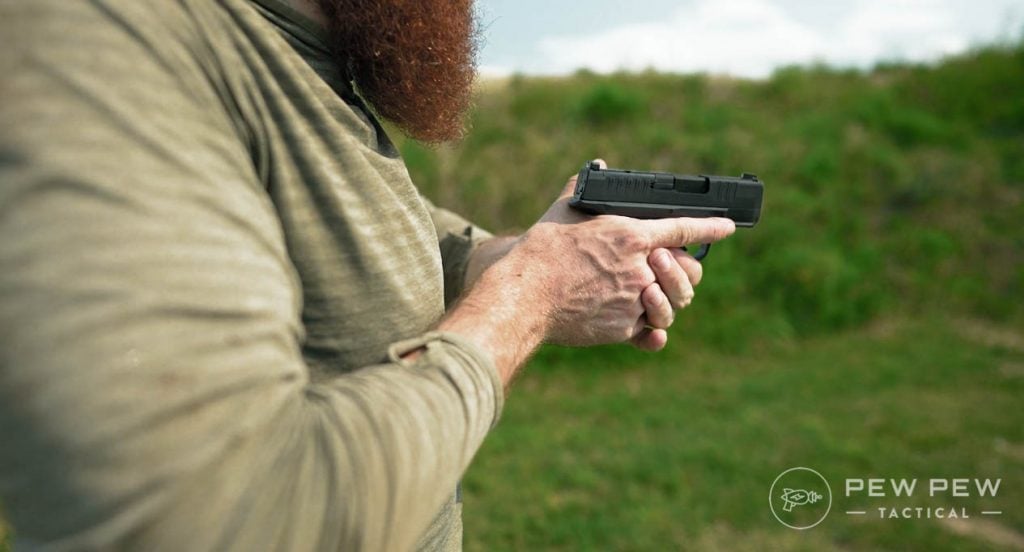 Alright, let's get down to the fun stuff…the recommendations. 
These are the tried and true, battle-tested, single-stack, 9mm sub-compacts that should be on anyone's list when choosing a new CCW.
Best Single Stack 9mm CCW Pistols
1. Sig Sauer P365
Okay, we know — it's not technically a single-stack. It's not really a double-stack magazine either though.
But it's close enough and fits within the size of most single-stack guns though…so we'll allow it. (It's our site, we make the rules!)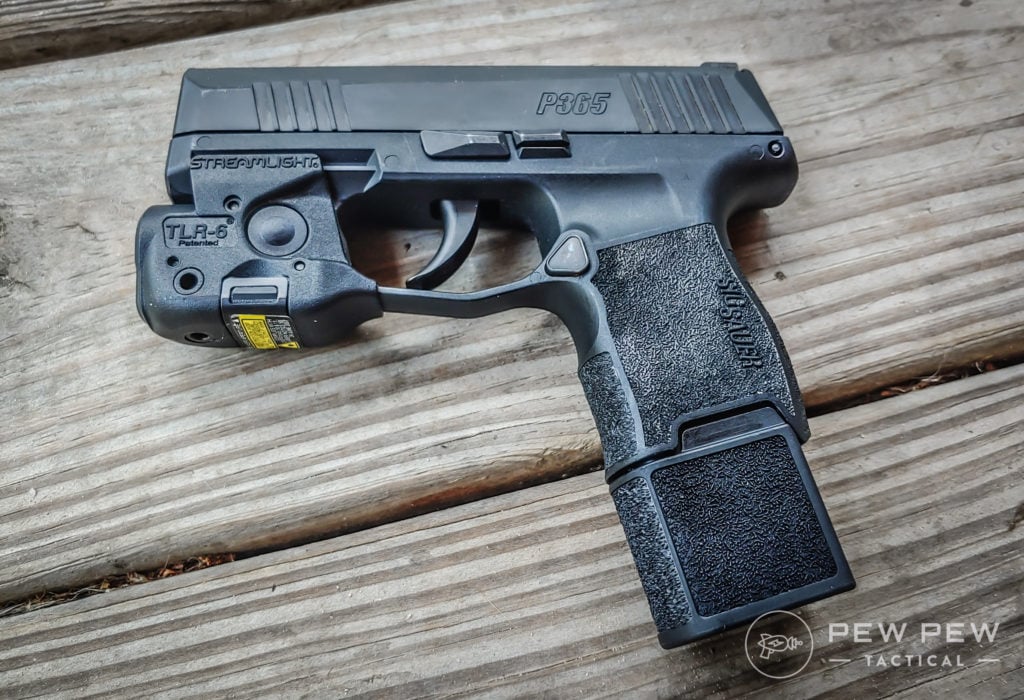 In our experience, the P365 family of guns is by far one of the best CCW options on the market.
From the size to the ergonomics to the extra options like the P365 XL with a larger frame and slide to the SAS that is streamlined for pocket carry — the P365 just offers everything.
On top of that, you're getting a 10+1 or a 12+1 or even a 15+1 magazine that packs a lot of firepower into an incredibly small and comfy shooter.
Personally, I love the P365 XL with a micro red dot.
2. Smith & Wesson M&P9 Shield
This is an all-around great gun — light, smooth, and most people can get their whole hand on the grip. There isn't a lot more you can ask for.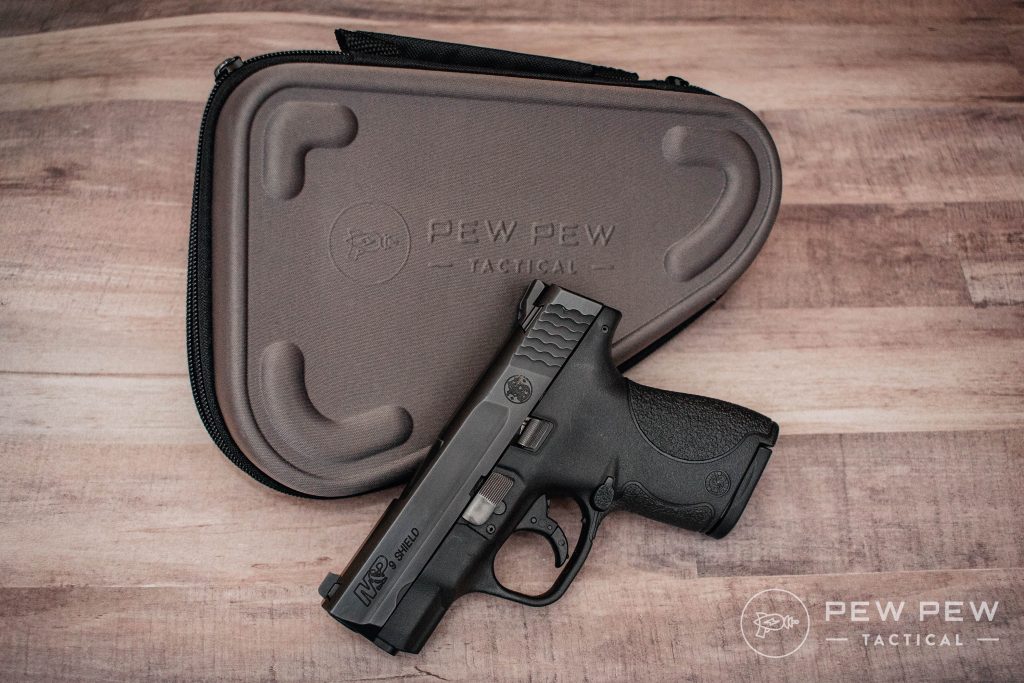 It is a little larger than some sub-compact pistols, but it's not quite as compact, so that's why it's on the list. 
Many small carry guns have a looooong and hard trigger pull. While the theory behind this is safety, in reality, it kinda sucks.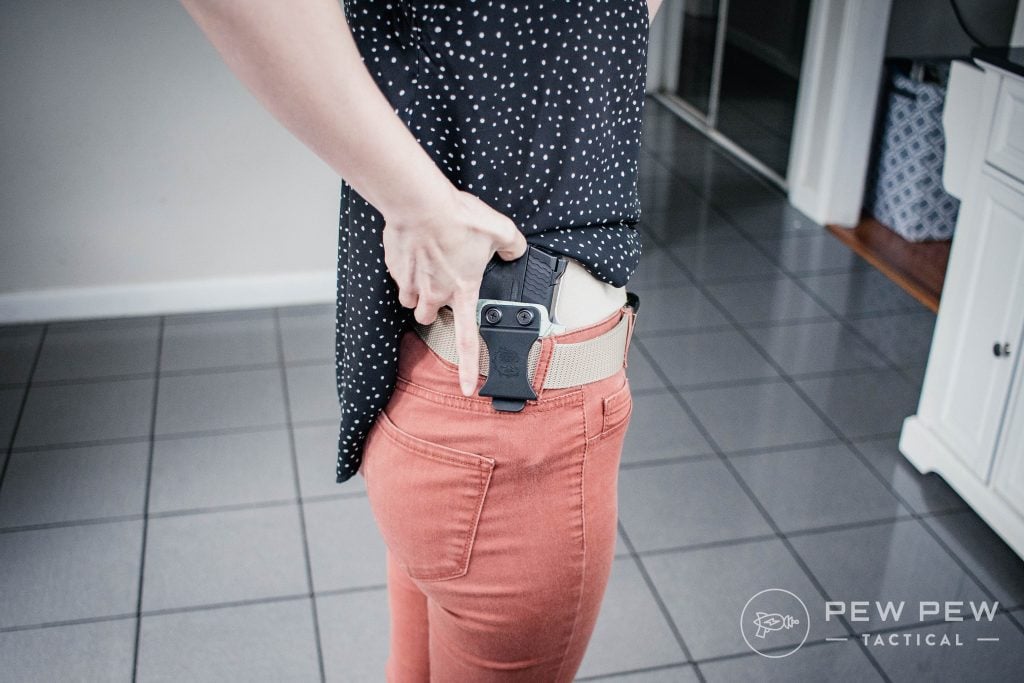 But the M&P9 Shield has a nice, smooth, shorter pull. The reset point for the trigger is good and you'll be able to squeeze off a few rounds pretty fast if you need to.
The nice thing about the Shield Series is options…from the EZ models to the Shield Plus. Plenty to choose from.
Great Value (Sub-Compact)
What do you think of the Shield? Let us know by rating it below.
3. Bersa Firestorm or Thunder
Not a super common choice but it is one of our editor's personal EDC CCW guns.
Based on a Walther PPK design the Bersa Firestorm has all of the reliability at a very budget-friendly price point.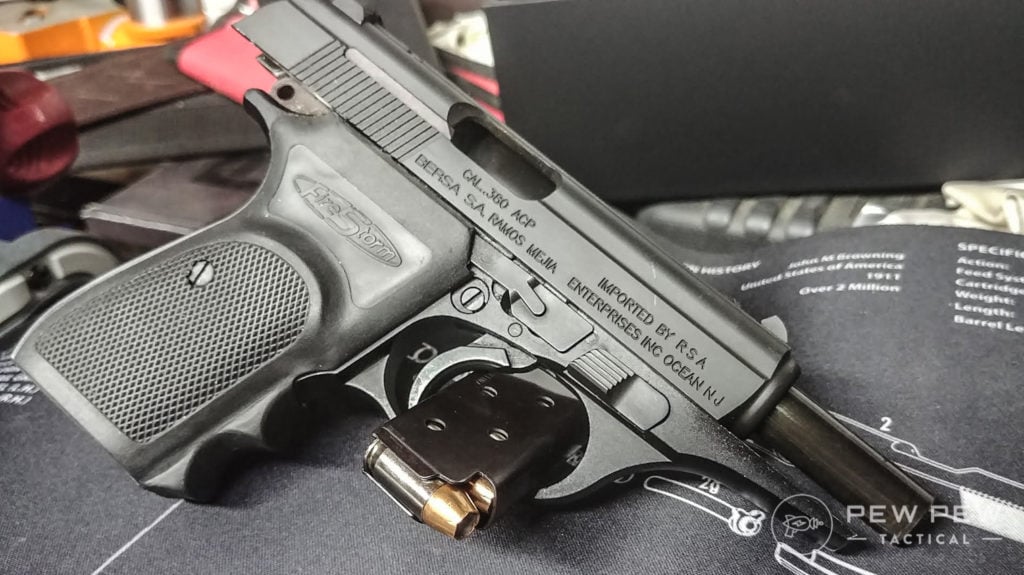 On a cost-to-quality scale, the Bersa punches way above its price point.
A DA/SA gun with a double-action trigger that feels a bit long but makes up for it with a very crisp single-action.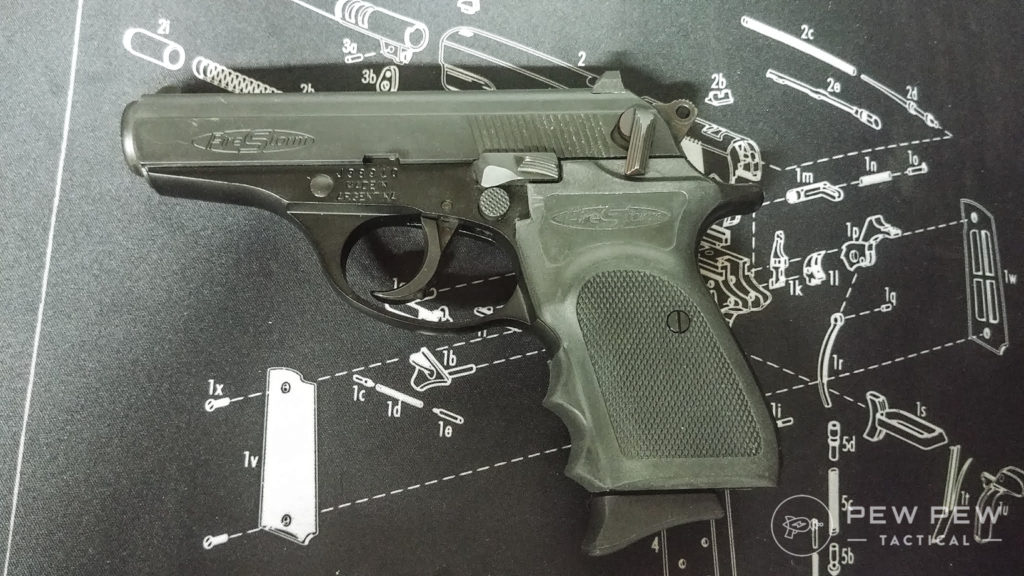 It sports a manual safety and decocker for the hammer plus 8+1 or 9+1 magazines.
Sadly, it also comes standard with a magazine safety — preventing the trigger from actuating anything if a magazine isn't secured in the gun.
This is a "feature" that is very easy to remove if you're so inclined.
Best James Bond CCW Clone
We like the offerings from Bersa and if you're looking for a budget CCW it's worth a close look.
4. Springfield XD-S 3.3
Another gun with a larger grip so you can get all of your fingers on it the Springfield XD-S' textured grip also helps you hold onto it easier. 
With the XD-S, you get a fiber optic front sight for easier target acquisition in lower light.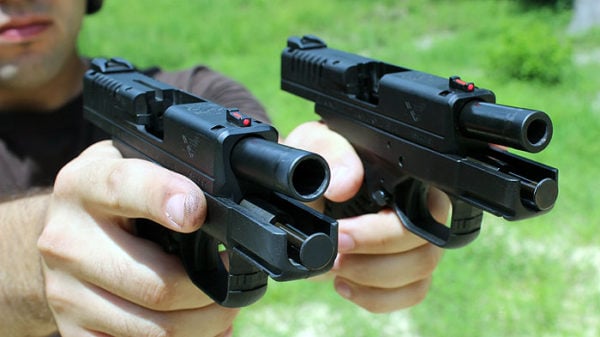 The serrations on the slide are deep and make it easier to rack, which means you need less grip strength to hold onto the slide. 
I like this a lot because when you're in a stressful situation, you might be a little sweaty and shaky and your hand could slip off the slide.
This also makes it an excellent gun for disabled shooters who may have arthritis or other wrist/hand problems that could interfere with racking a slicker slide.
5. Glock 43x
Glock's answer to the post-P365 world was an upgrade and updated version of their G43. The G43x is basically the same thing but better in a lot of ways.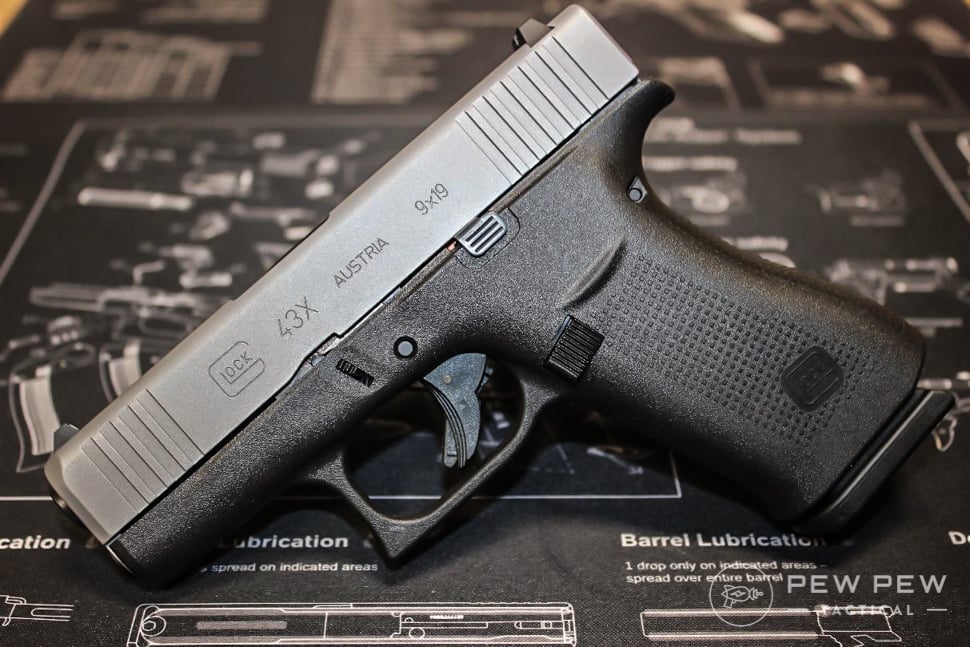 Giving 10+1 in the standard magazines the G43x also comes with all of the Gen 5 upgrades like a better trigger, barrel, and improved magazine followers.
Other than that though… it's a Glock.
If a Glock is what you want, a Glock is what you'll get. Now that also opens the doors for a host of modifications and upgrades!
Check out our reviews on the Glock G43X and G48 here. Or, if you want a little red dot action, read up on the red dot capable Glock G43X MOS…psst, you can also watch the video below.
6. Walther PPS M2
A successor to the Walther PPS, the PPS M2 carries over some of the features from the PPS… but with a thinner design.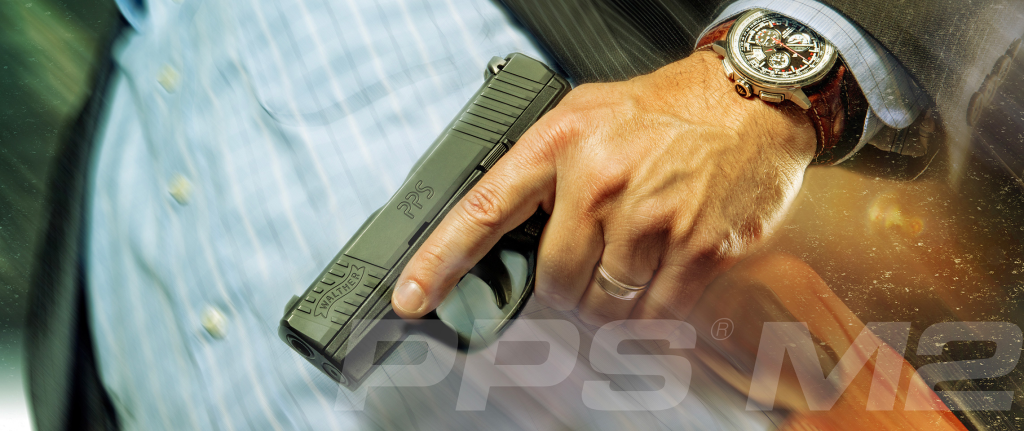 It also offers a different grip texture Walther borrowed from the PPQ models.
You'll get large white dot sights so you can quickly acquire your target. The thin 1-inch thick frame gives you an easy to conceal gun that's large enough to fit your whole hand on.
The PPS M2 has front and rear serrations so you can rack the gun easier. You don't have to rely on your grip strength.
6. Springfield Hellcat
Another not technically single-stack gun, but close enough like the P365.
The Springfield Hellcat was the first big release CCW after the P365 made shockwaves and Springfield did an outstanding job on it!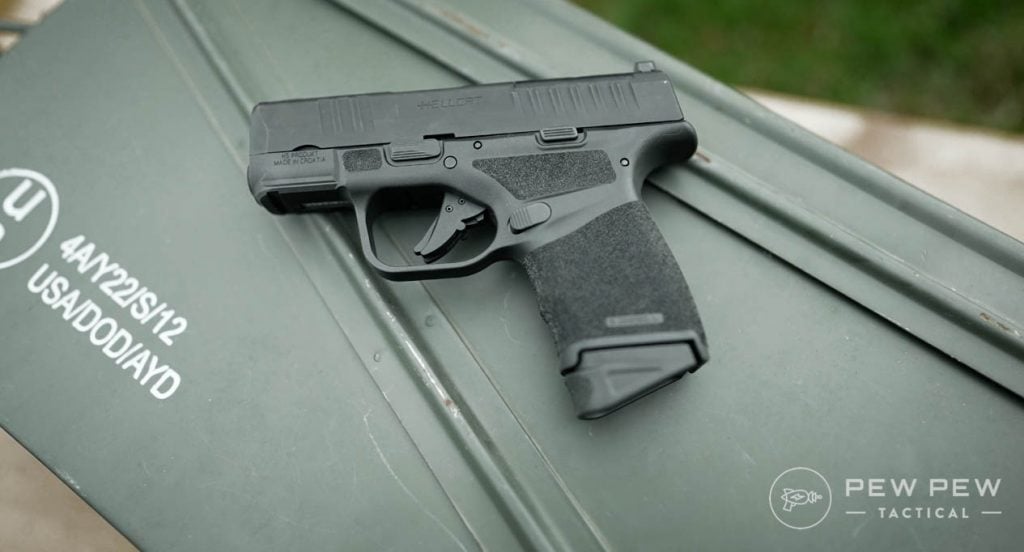 Reliable, cost-effective, 11+1 magazine, and optics ready from the factory — the Hellcat offers a ton of function in a small package.
Something that stood out and impressed us with the Hellcat was how many types of ammo it could run with no problem.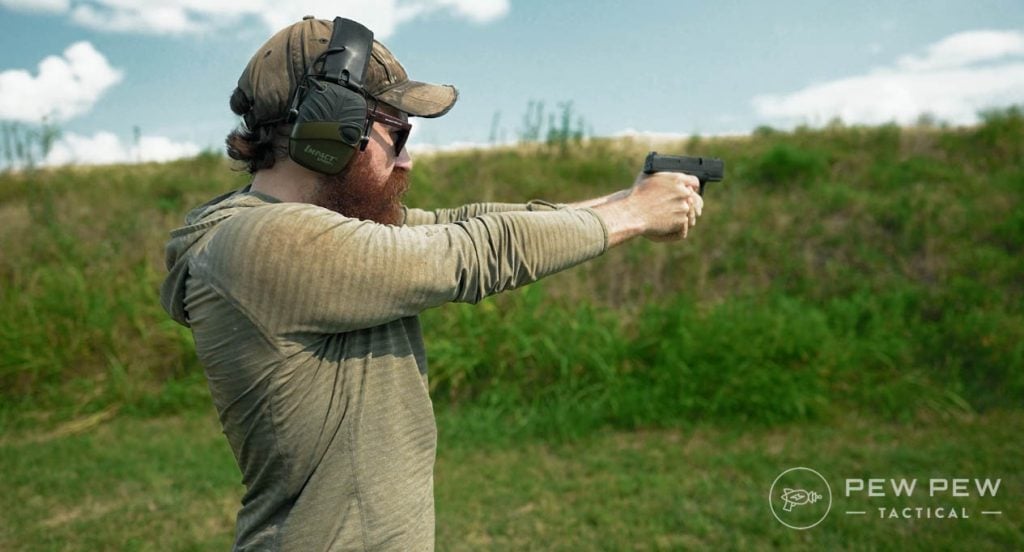 Even feeding it horrible steel-cased ammo, it still never had a problem.
While we would NEVER recommend carrying sub-par ammo, it does make training cheaper if you can run the cheap ammo. In times like these, that's a big deal.
Conclusion
Choosing a single stack sub-compact is a matter of preference. Finding one that's comfortable in your hand, that you can shoot accurately, and you are confident carrying in the event you need to use it is the real key.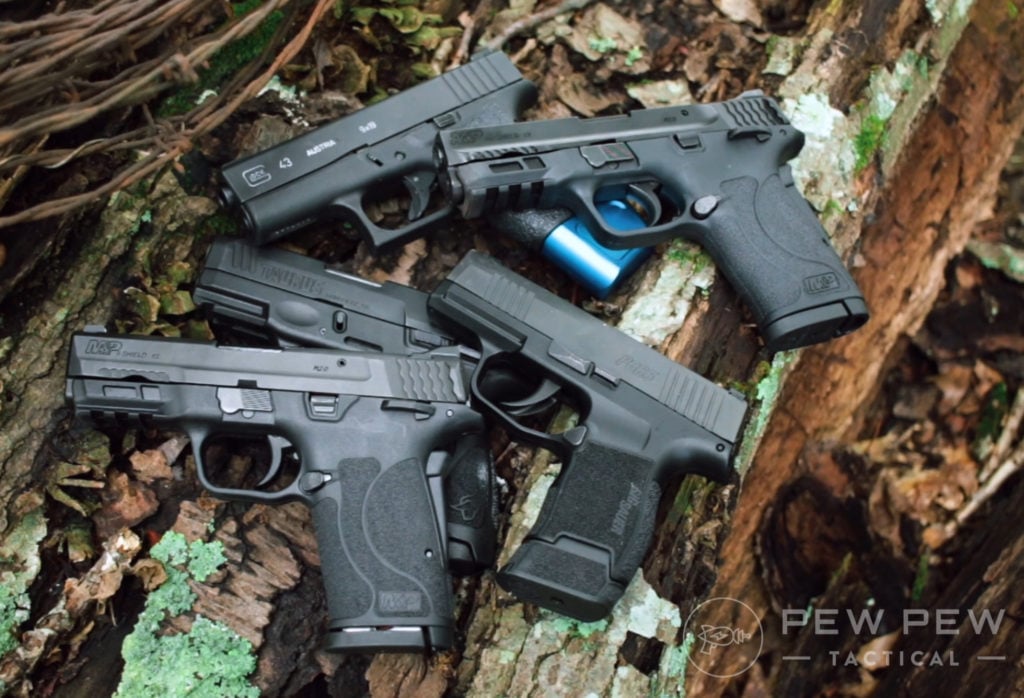 Now that you have a few choices for a sub-compact single-stack 9mm, you can start to get into the specifics that are right for you.
What's your fave sub-compact single-stack 9mm? Let us know below. Also, don't forget to take a look at our recommendations for Best Range & Defense 9mm Ammo and Best Concealed Carry Holsters. And if you're a lady, head over to the Best Handguns for Women.
Source
Best Sub-Compact Single-Stack 9mm for CCW is written by Trevor Dobrygoski for www.pewpewtactical.com