Want the quickest target acquisition in low light?
You need an AR-15 mounted laser.
We tested the most popular green and red lasers for brightness, zero hold, overall build, worth-it-ness, and more.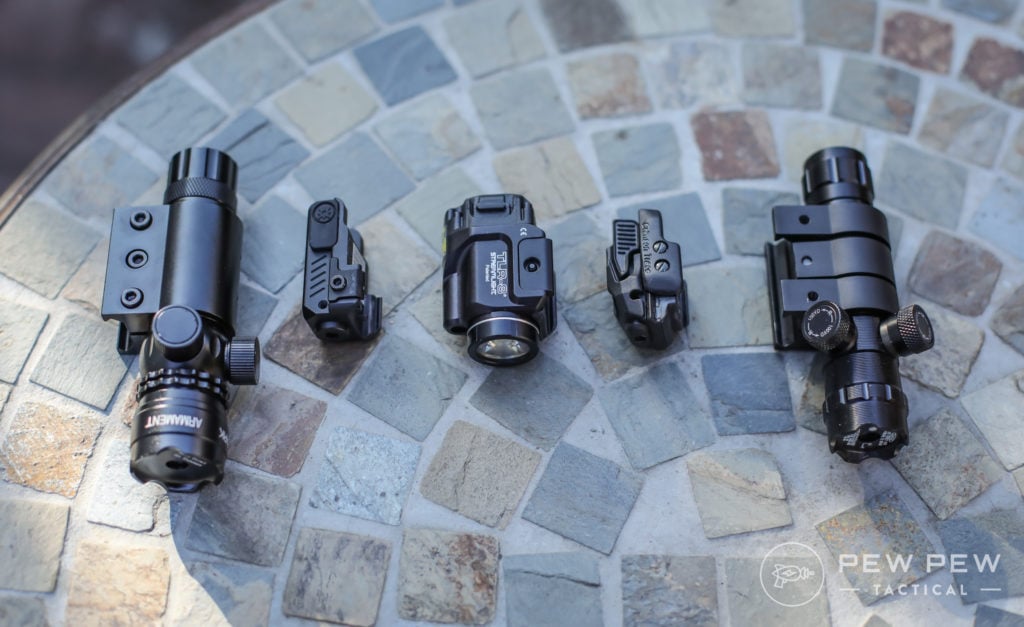 By the end of this post, you'll know the best laser for your budget and purpose…from range plinking to professional nighttime activities.
Summary of Our Top Picks
Editor's Pick

Our go-to laser/light combo. Can be used with pistols or rifles.

Best for Night Vision

Pricey but great for night vision shooting.
Table of Contents
Loading…
Best AR-15 Lasers
1. Ade Advanced Red Laser
Let's start off with something affordable like the Ade Advanced ($34) that can double for use on both pistols and AR-15s.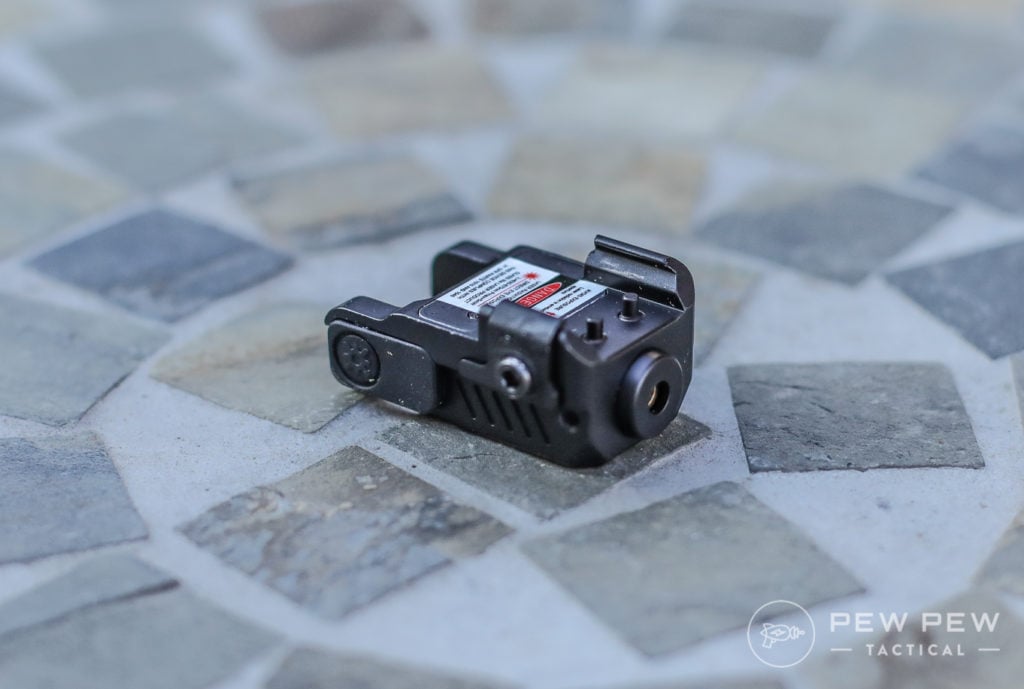 It's tiny and doesn't add much weight to a rifle.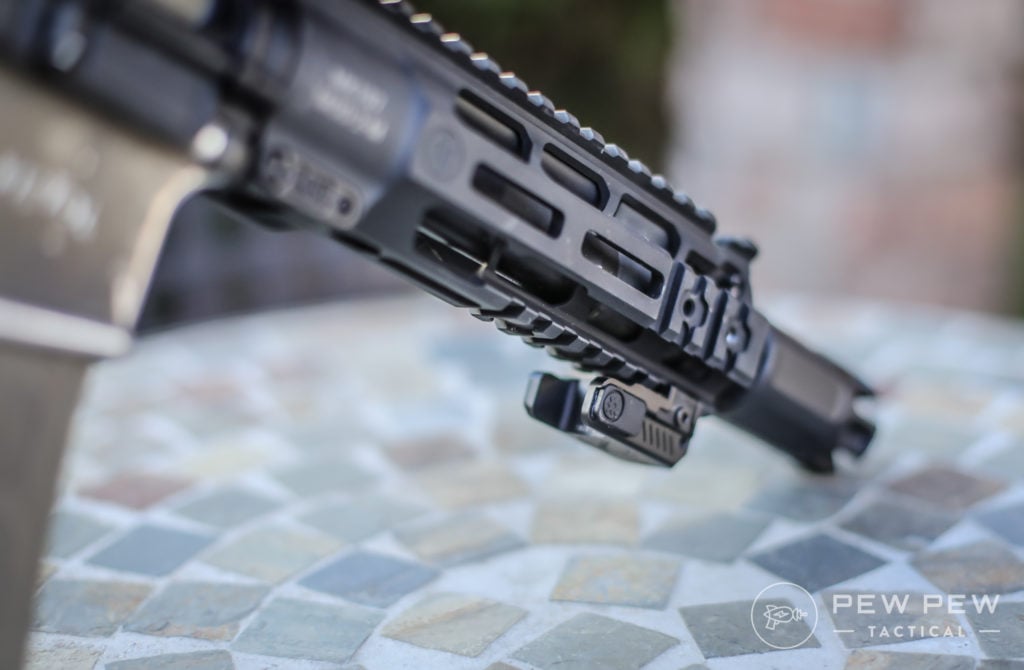 Plus makes its home on a custom Glock.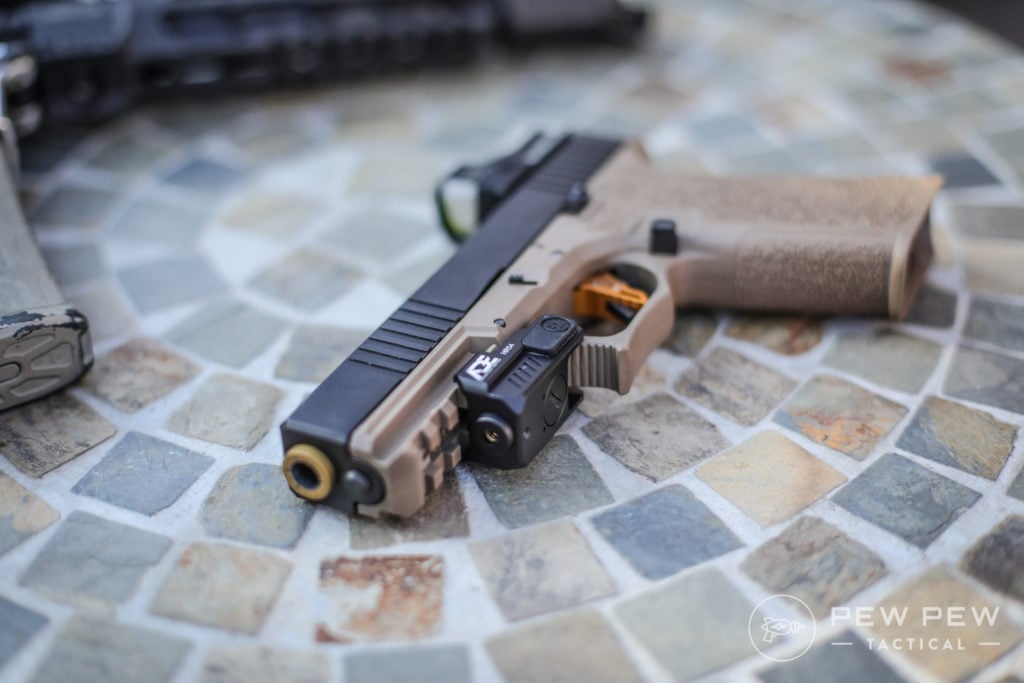 The side button takes some thought to activate…so you're not going to inadvertently activate it.
Not that you can really go on and off quickly with this model. The first click turns on a constant laser while a second click makes it strobe.
Something I wish it didn't do since it takes another click to turn it off…and a strobing laser is pretty useless to me.
How's it hold up under shooting?
I attached five of the lasers to my 7-inch piston AR pistol, zeroed it to my holographic sight at 15 yards, and brought it to the range.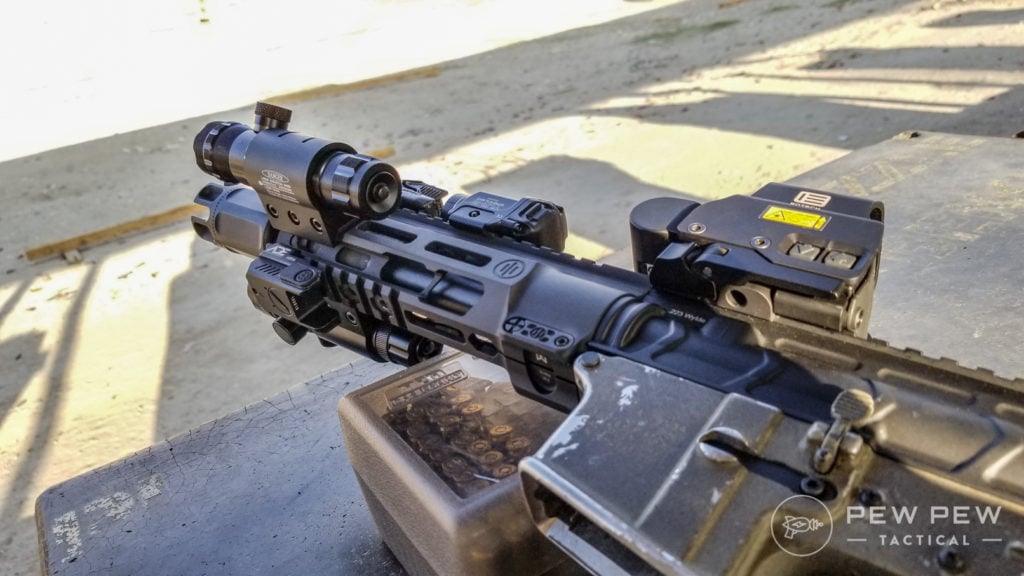 I chose my super short piston upper for its increased recoil that will test the zero holds of the lasers. I shot 100 full power rounds.
Then brought it back to see the deviation from the center dot..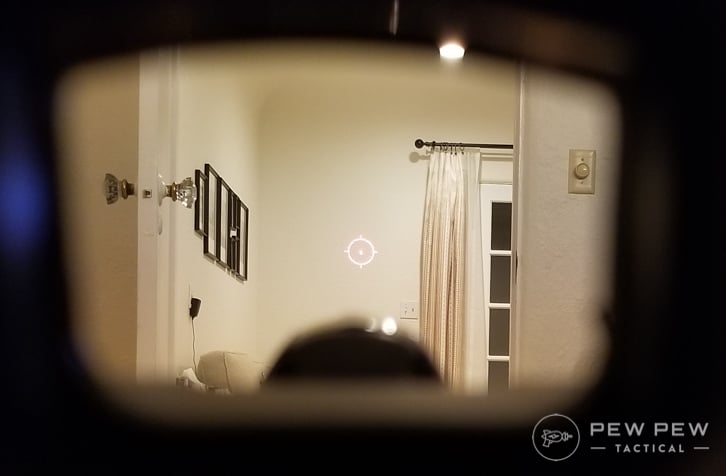 It's hard to see…but the Ade Advanced red laser is very slightly lower than the center reticle.
Great zero hold in my book.
Brightness is decent too in this picture before all the lasers were zeroed to one dot at 15 yards.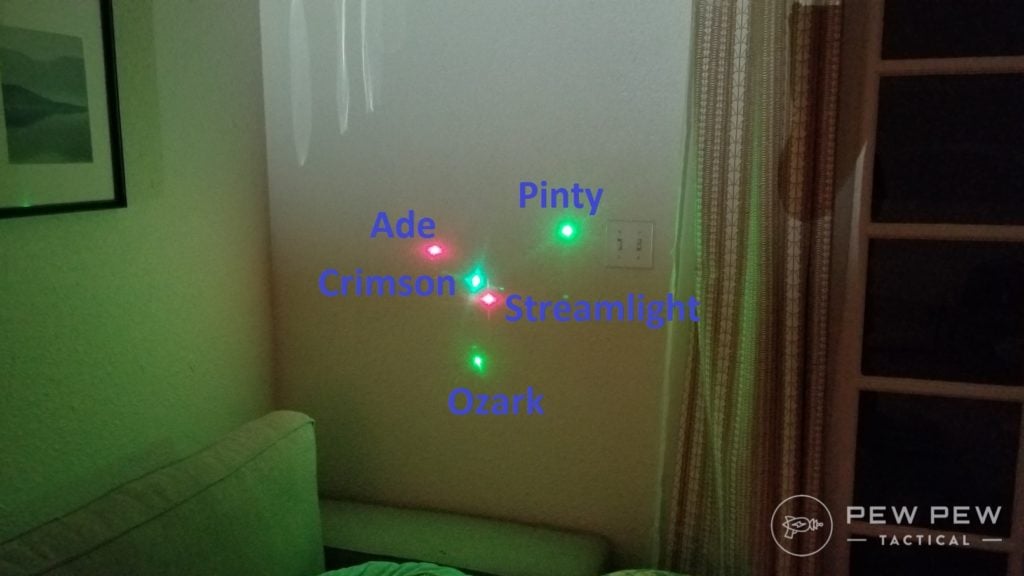 I thought this little optic would suck…but besides the button strobe "feature"…it's pretty good for a start rifle or pistol laser.
There's also the green laser version ($45) too for a little more.
2. Pinty Green Laser
Now, what's this fascination with green lasers?
The color green is supposedly 6x easier to pick up for the human eye. And for lasers, they are easier to see both day and night.
I chose the Pinty Green Laser ($27) since it was the most affordable one with great reviews…even though I've never heard of the name.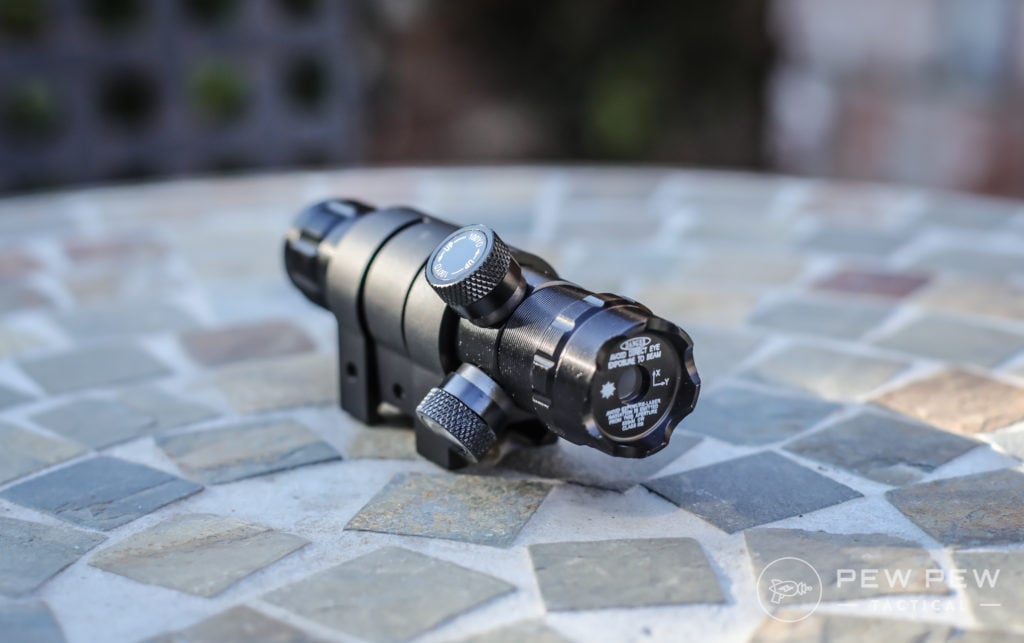 The size and mounting style leave something to be desired…but I'm going to let the results speak for themselves.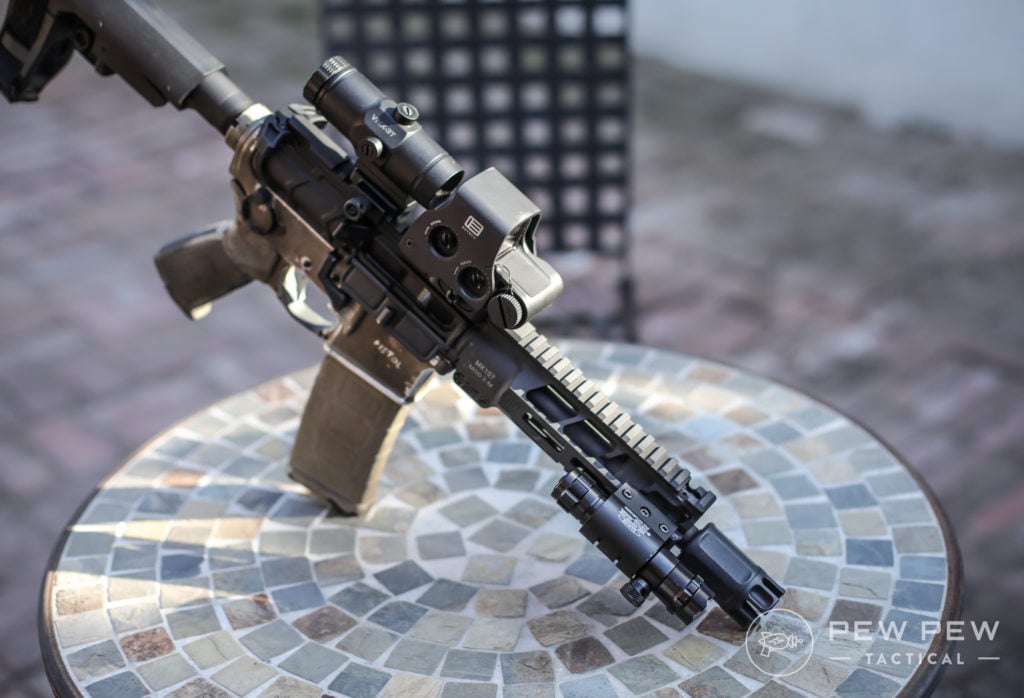 It's large, has knobs for windage and elevation adjustment, and has either a button endcap or pressure pad.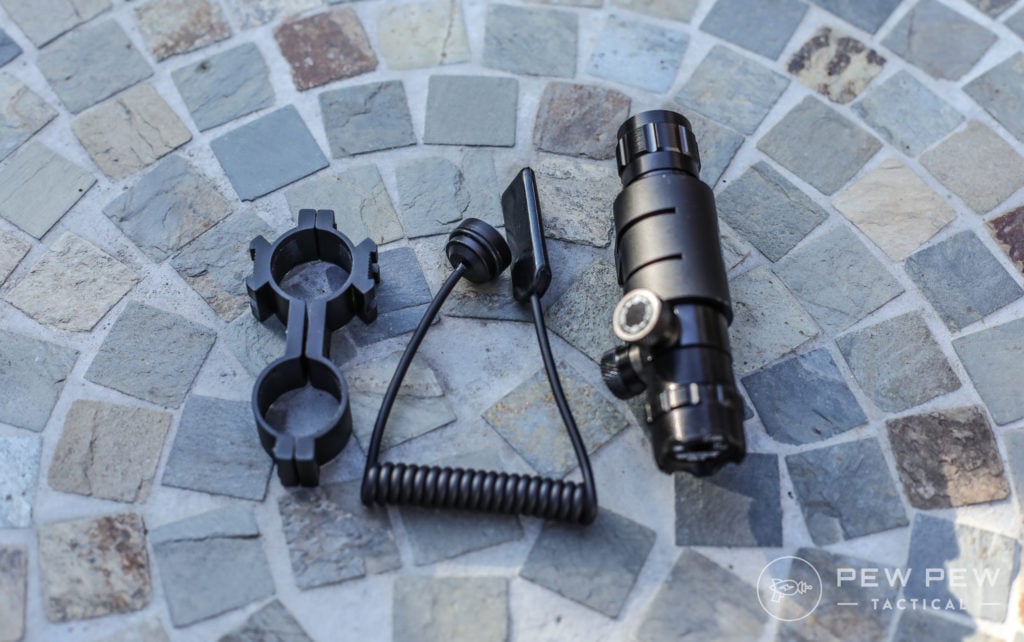 The adjustment knobs are marked and actually have a nice audible click with a "correct" amount of resistance I'd expected in something more expensive.
Still…everything made me think that it would unzero after some shots.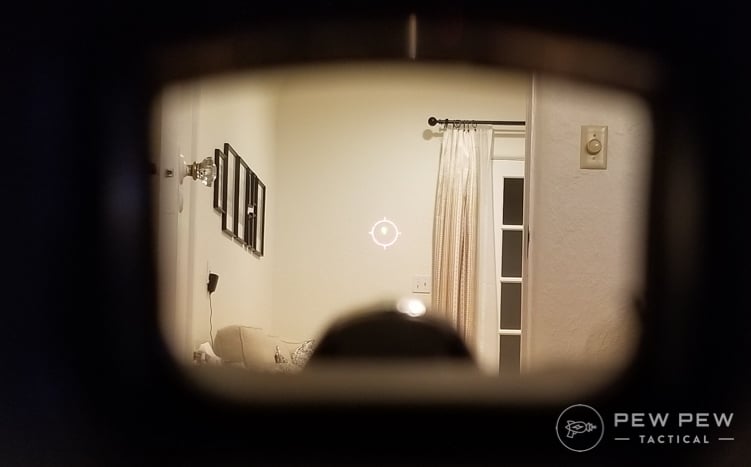 However, I was pleasantly surprised that it was only slightly more of a shift (upwards this time) compared to the Ade.
Plus…it was the brightest of all and more visible than its more well-known competitor…the Ozark Armament.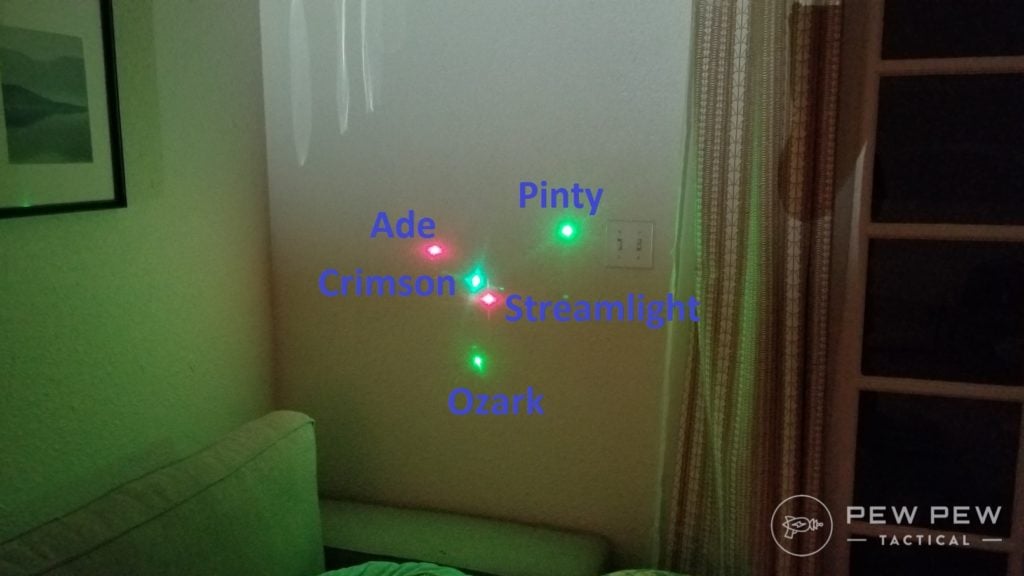 A decent pick at around $25 if you want something that actually seems more expensive and holds zero.
I reached out to Pinty after testing and secured you guys a 15% off coupon "PEWPEW" to use at their site.
Affordable Green Laser Pick
Affordable Green Laser Pick
3. Ozark Armament Green Laser
I had high hopes for the Ozark Armament ($40) since I liked their budget option in my Best AR-15 Lights.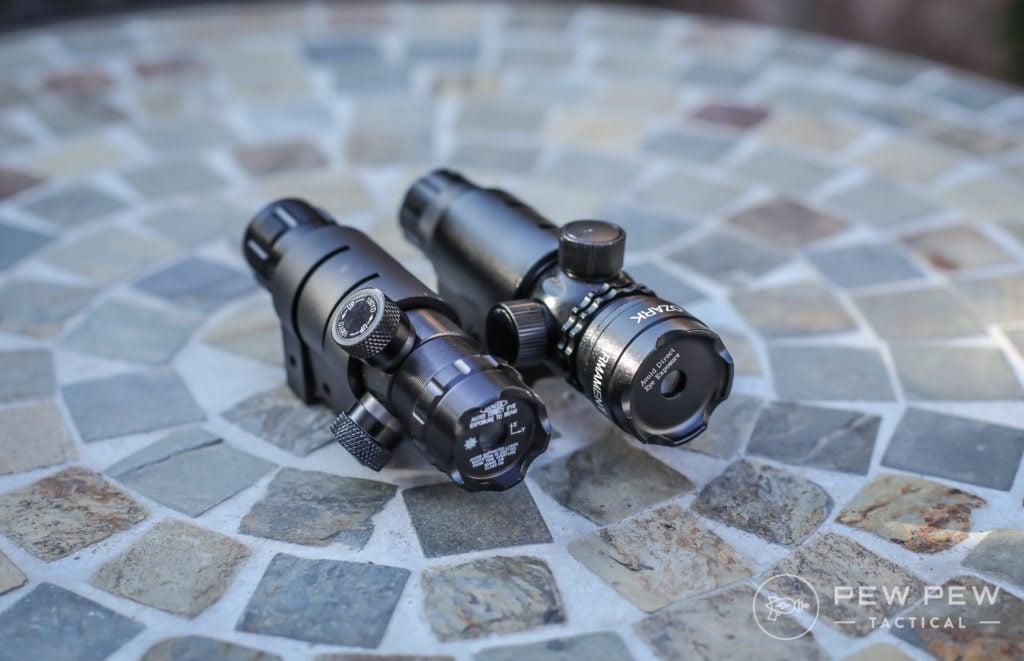 You can see that it's quite a bit chunkier than the Pinty…but along the same lines in design.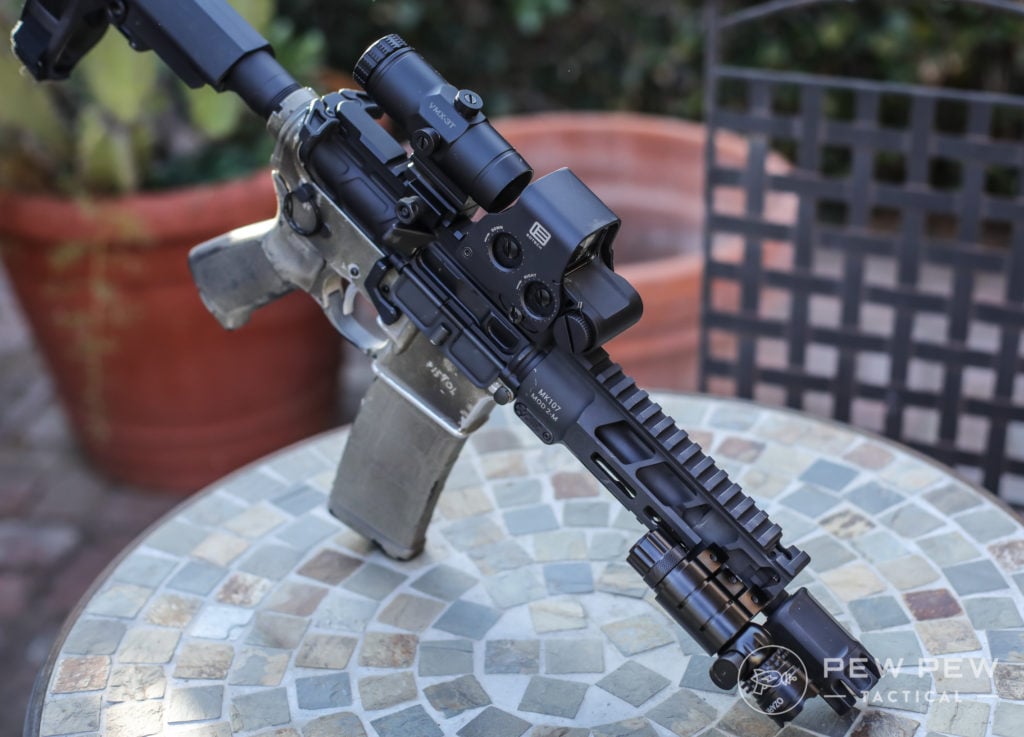 It also comes with the same accessories as the Pinty that seem to be made from the same place.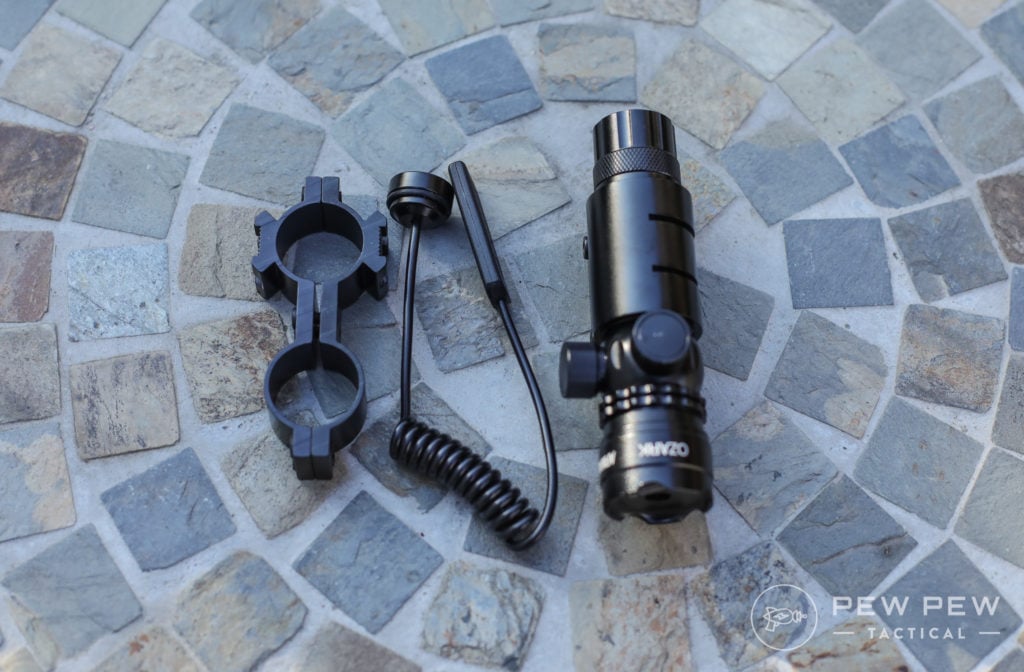 However…the windage and elevation adjustments were not marked and felt really spongy. If they were on the Pinty at a $20 price point I wouldn't complain.
Brightness we've already seen as slightly less bright than the Pinty…but overall much more visible than the red lasers.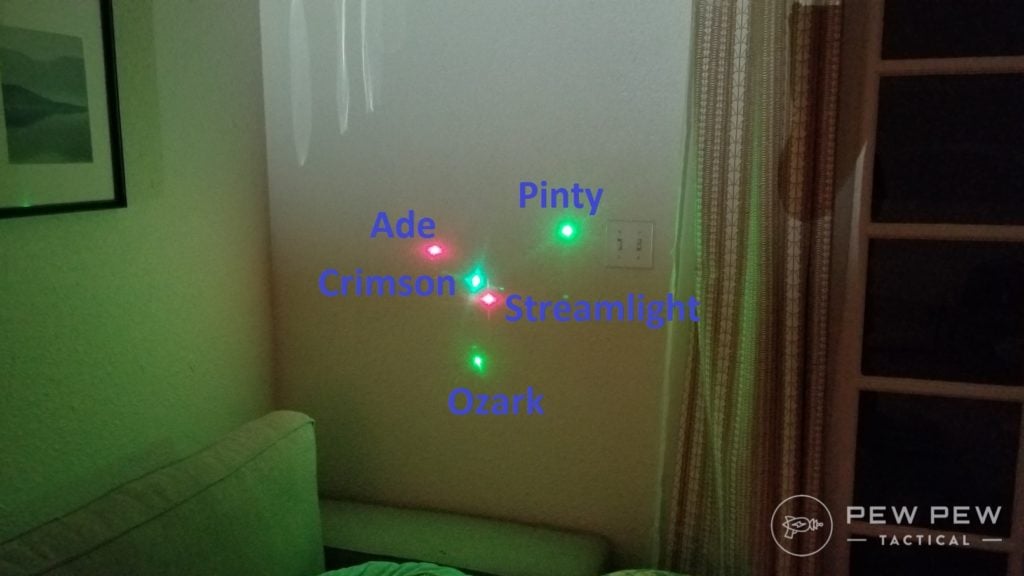 How about zero?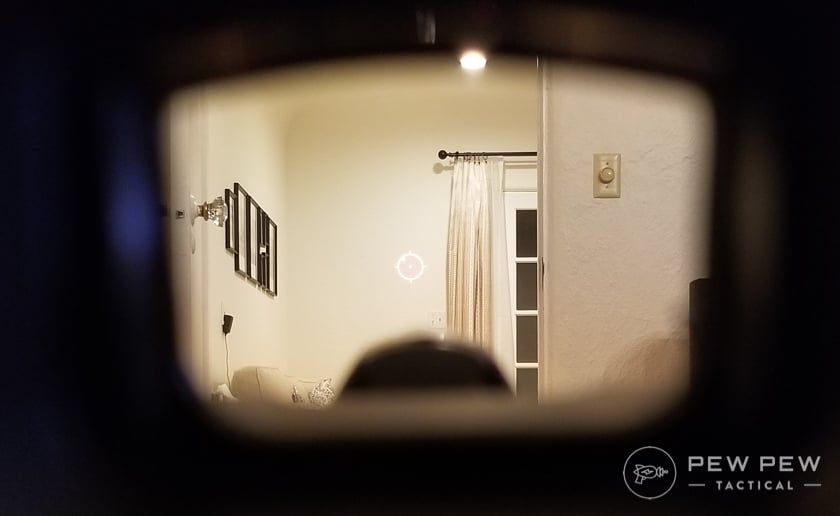 Not that great…you can see it shifted to the 10 o'clock position a good deal away from the center dot.
If you're ok with this form factor of laser…avoid the Ozark and go with the Pinty.
4. Streamlight TLR-8
My go-to brand for handgun lights…we tested the TLR-8 ($197) light/laser combo out in Best Handgun Lights.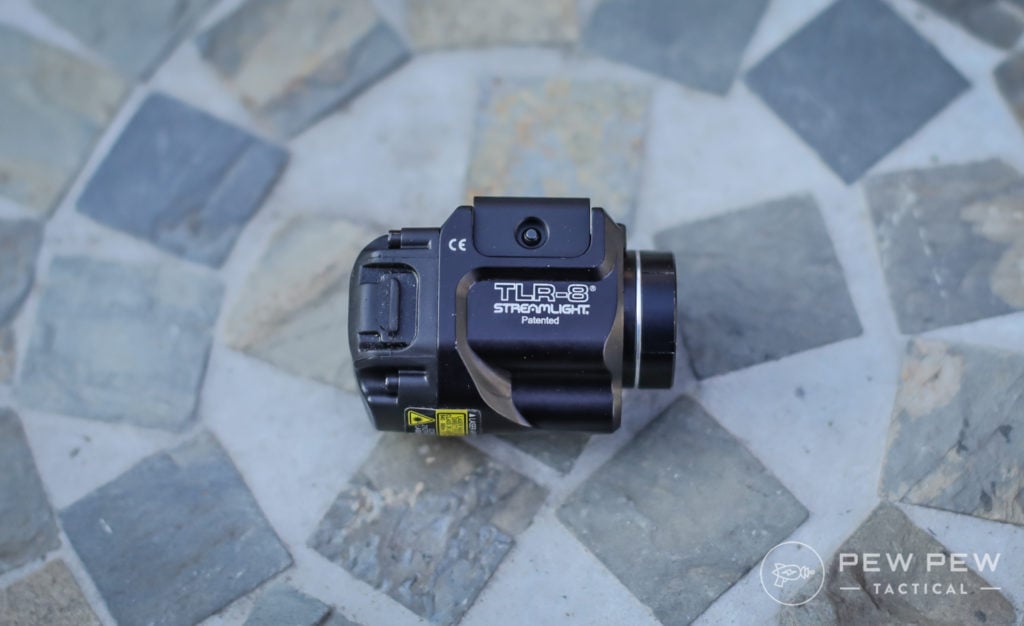 It's small enough for handguns (even compacts)…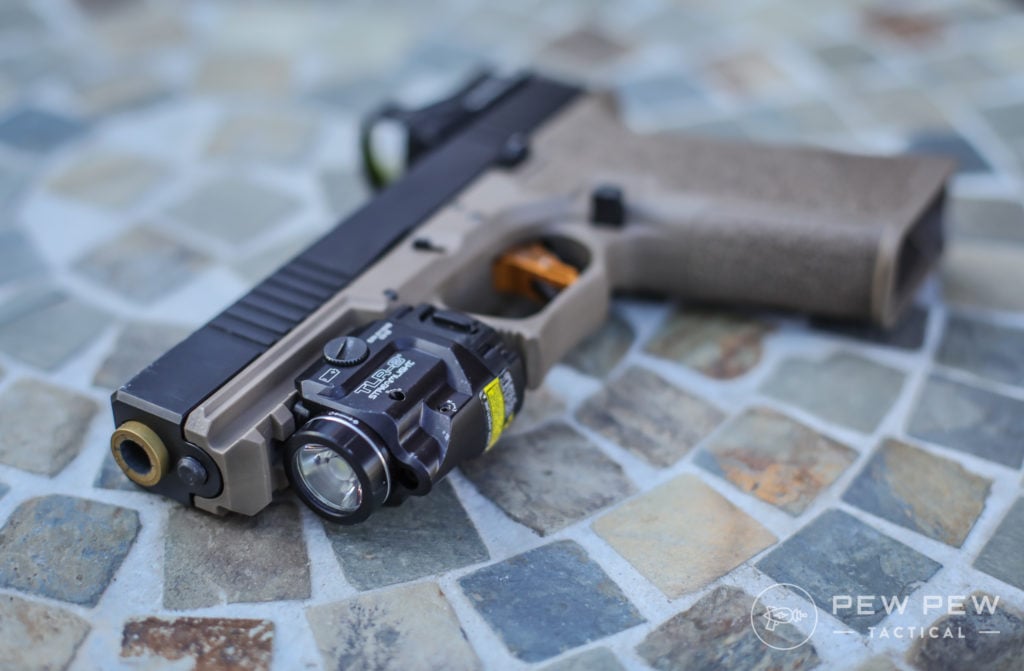 And hides away on an AR-15.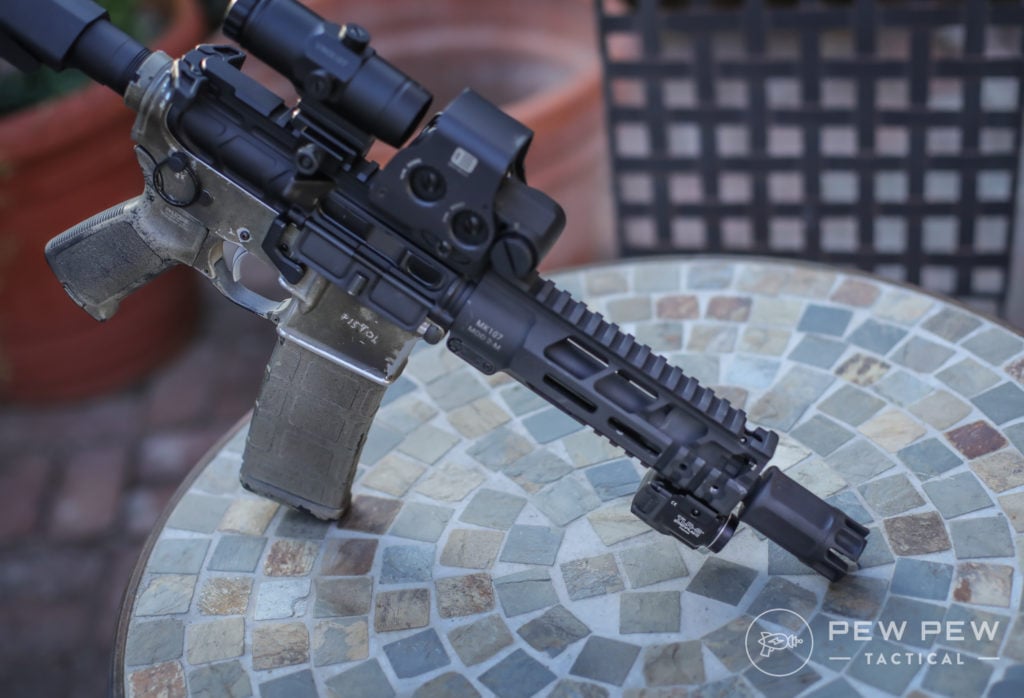 It's easier to use than the larger TLR-2 where you can switch between laser only, light only, or combo…since you can only combo here.
The 500 lumen light is very usable but a little yellow.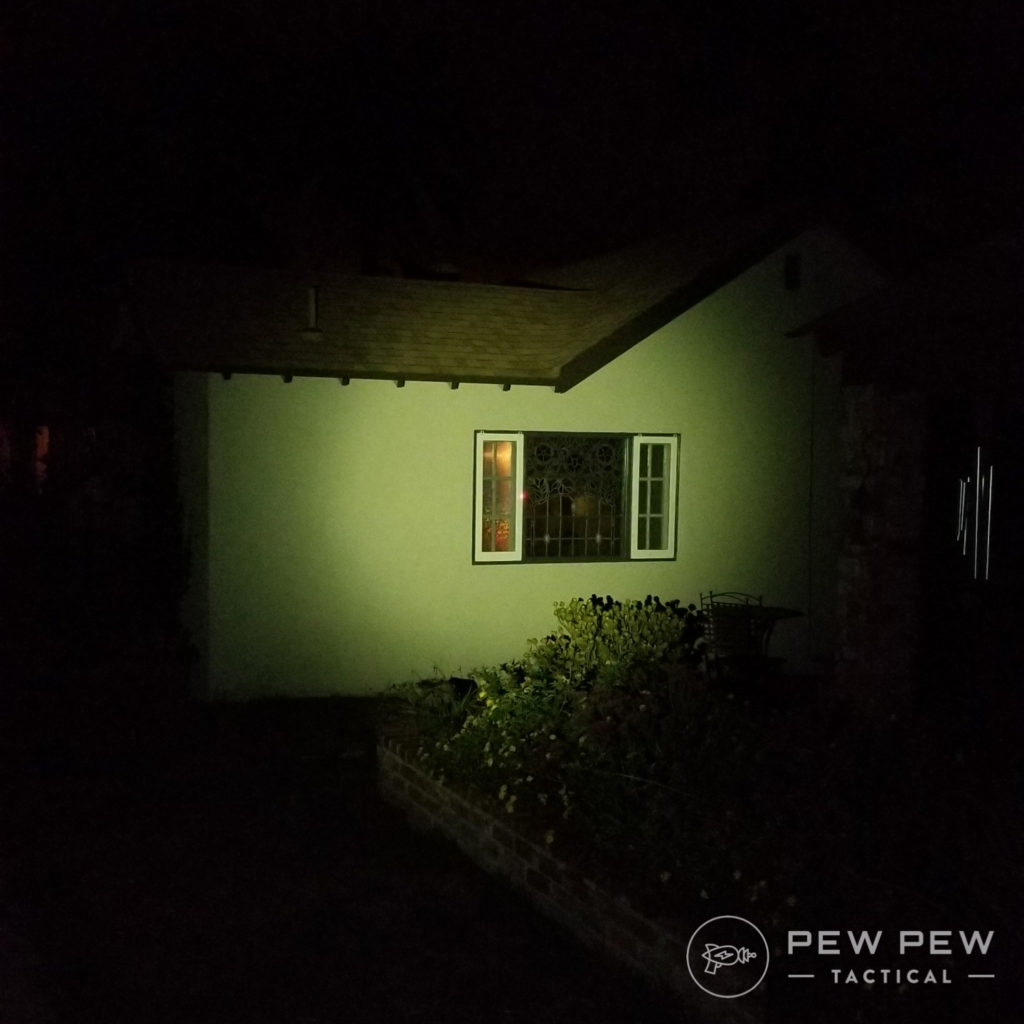 While the red laser is very visible.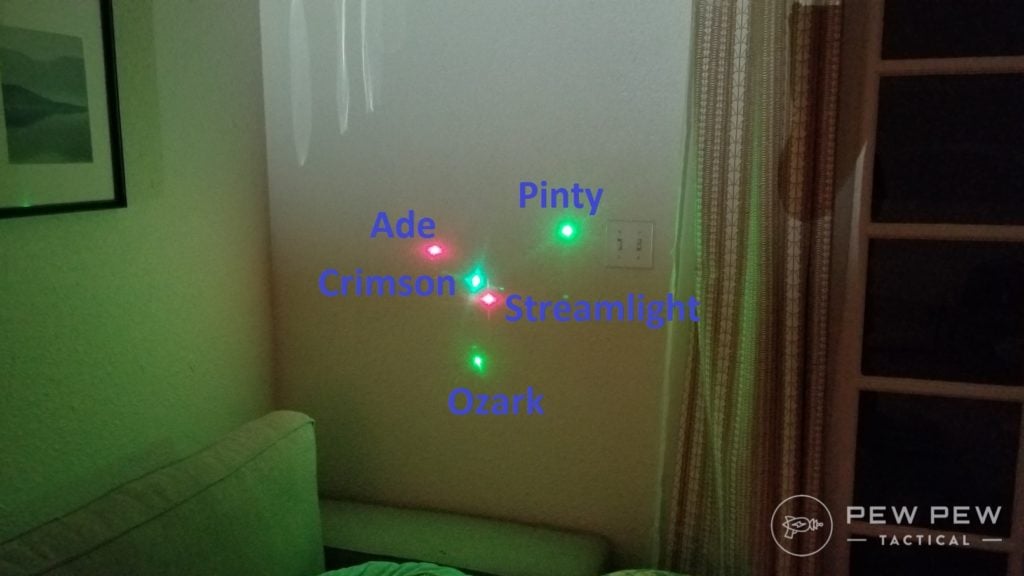 Its zero hold was the best out of everything.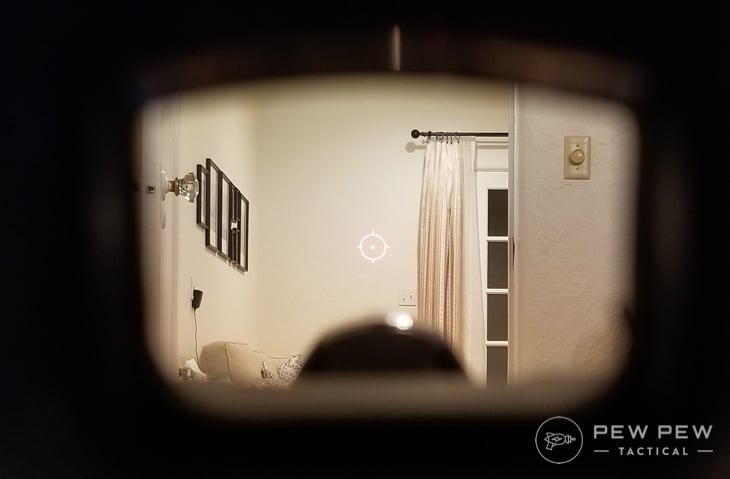 You can't even see a difference since the dot still matches up exactly with the reticle.
My recommendation if you don't want to run an additional light and want something that stays zeroed.
And if you want something with a little more brightness at a size increase…check out Streamlight's TLR-2 that comes in 800 lumens and with a red laser or green laser variety.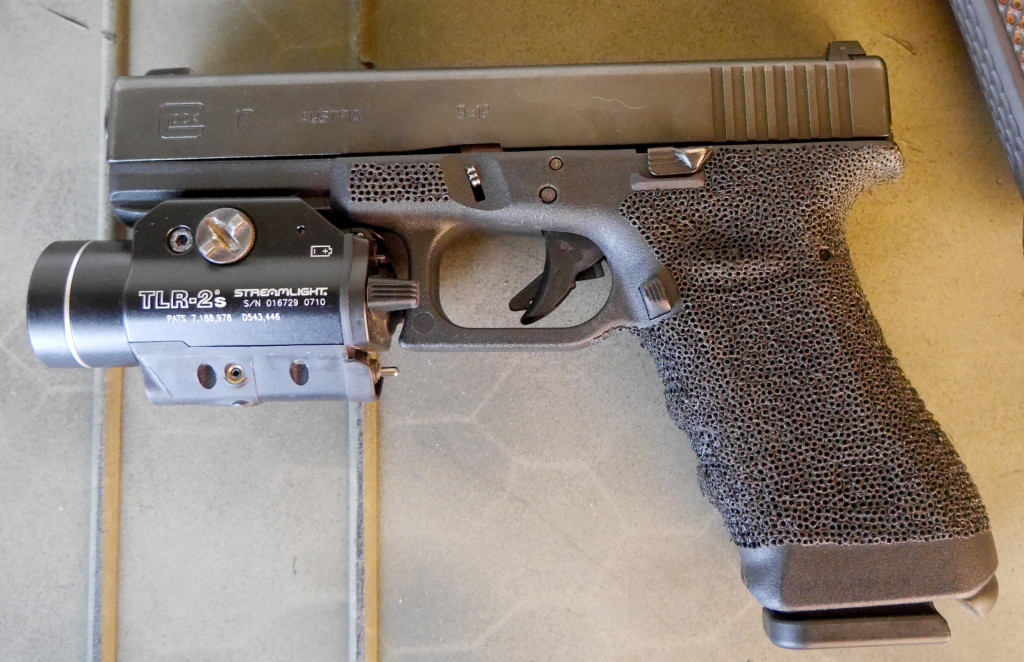 5. Crimson Trace CMR-206
My favorite pick out of the more affordable batch of pure lasers is the CMR-206 ($139) from Crimson Trace which is known for its laser products.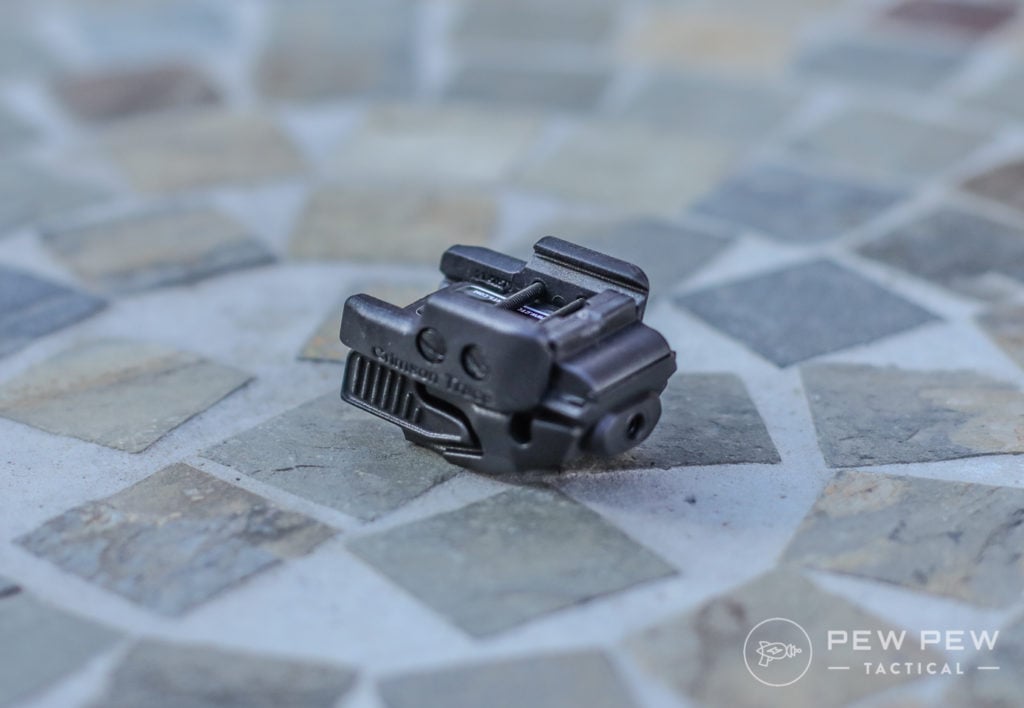 It's tiny and well-built…and lives on my night competition PCC (pistol caliber carbine).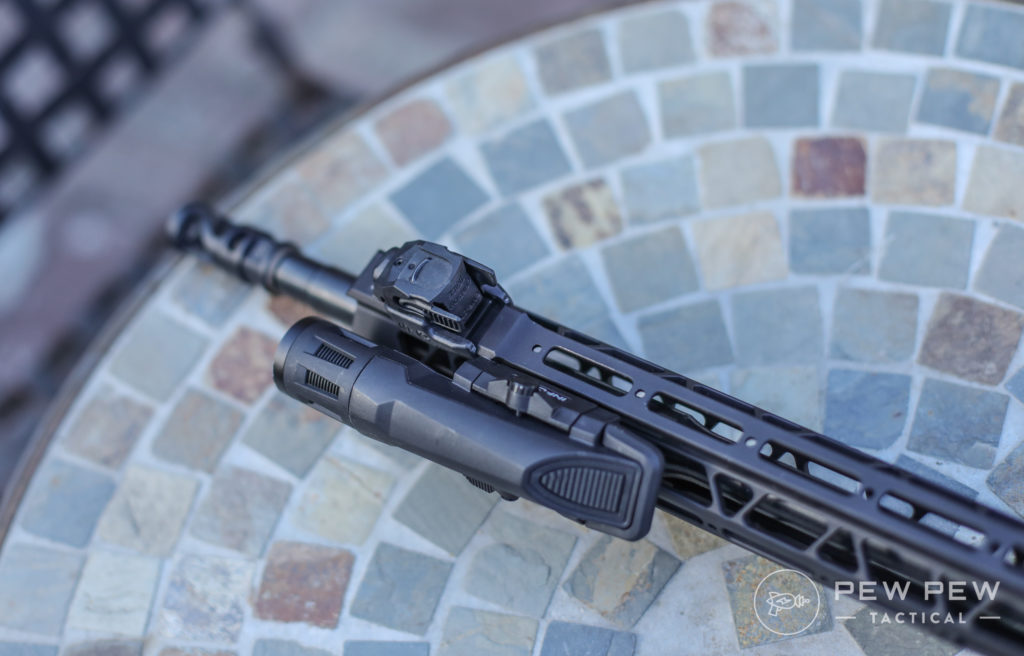 Otherwise, it works great on a handgun…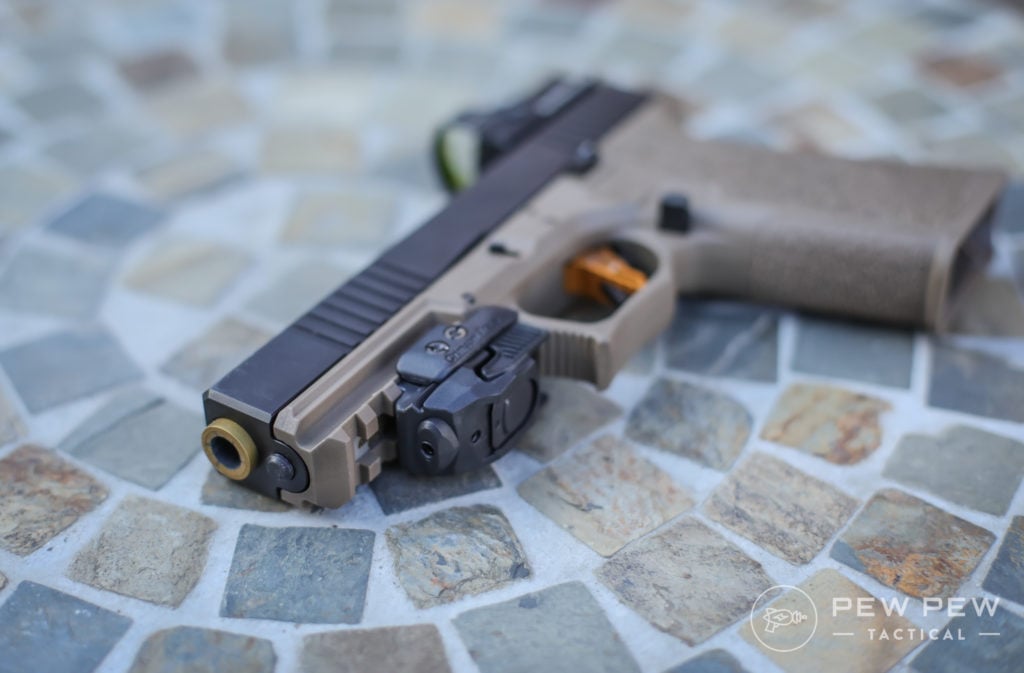 Or an AR-15 on the bottom rail.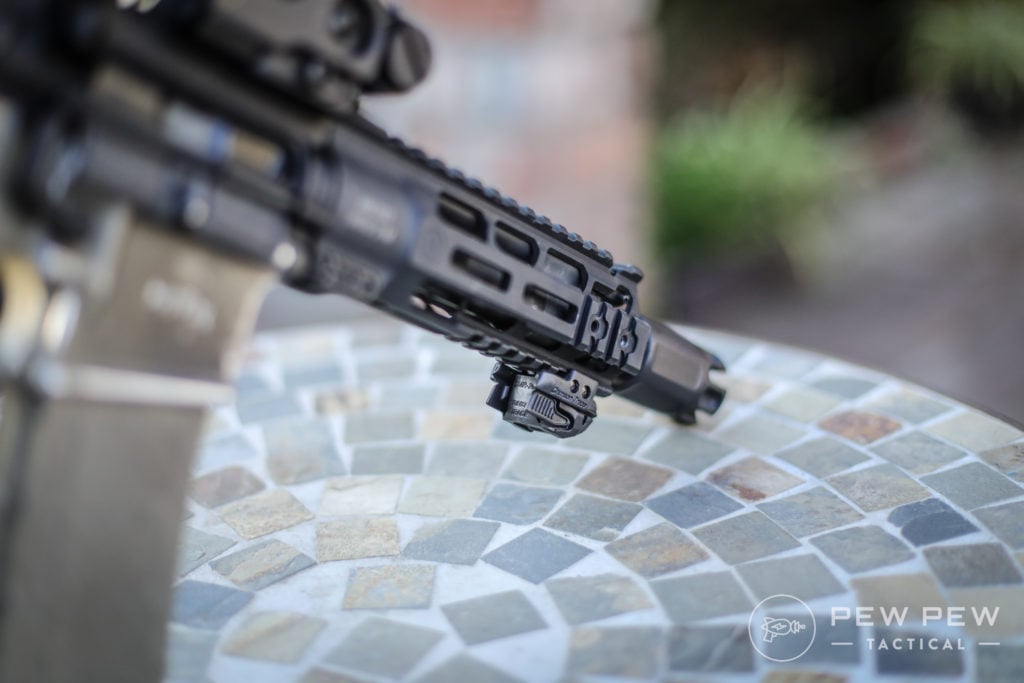 Check it out in action during one of my recent night matches:
Brightness isn't as bright as the Pinty and it has a slightly more cyan tinge to it.  But can reach out to 30+ yards for metal target hits fine.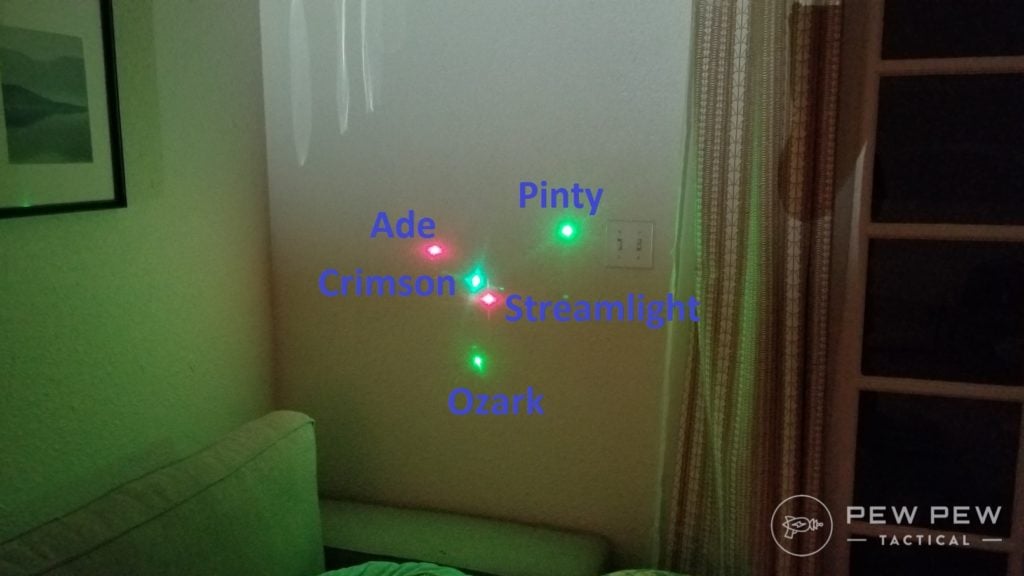 Plus zero is good at moving a smidge upwards.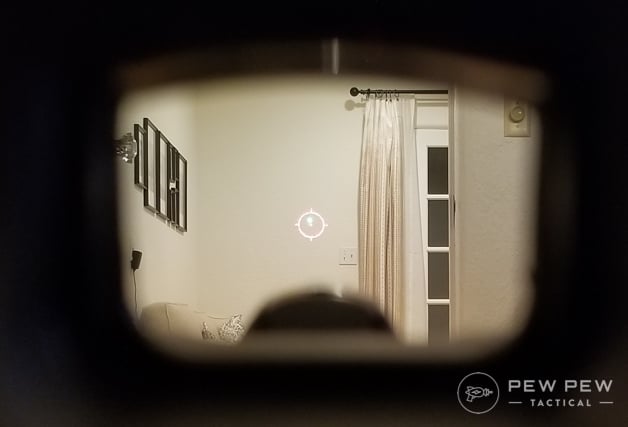 For its size…it's my favorite and will continue to live on my competition PCC gun.
6. Holosun LS117
One higher-end standalone laser sight is the Holosun LS117 ($220) series which bridges the gap between consumer and professional use products.
I've always liked Holosun products…they won our Best Red Dots Under $200.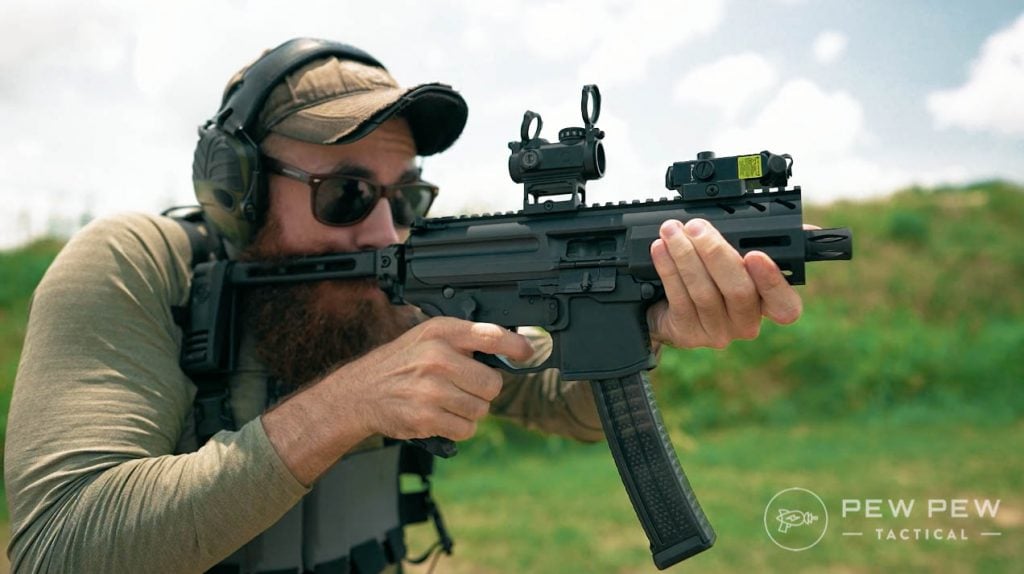 Their laser sight comes in IR (infrared for night vision, red, or green) and has a nice small profile to fit on the front of your rifle.
We got the green for more power.
It also has a QD (quick-disconnect) attachment and can take a standard pressure pad…so you can control your lights and lasers without shifting your grip.
We moved it between our MPX and APC9 and zero held for each gun. What we recommend if you want a more serious laser sight without going to the DBAL or others with IR.
7. Viridian HS1
Viridian has a cool product that combines a long gun hand stop with a laser — the HS1. A button to activate the laser is built into the housing so that a little bit of pressure activates it.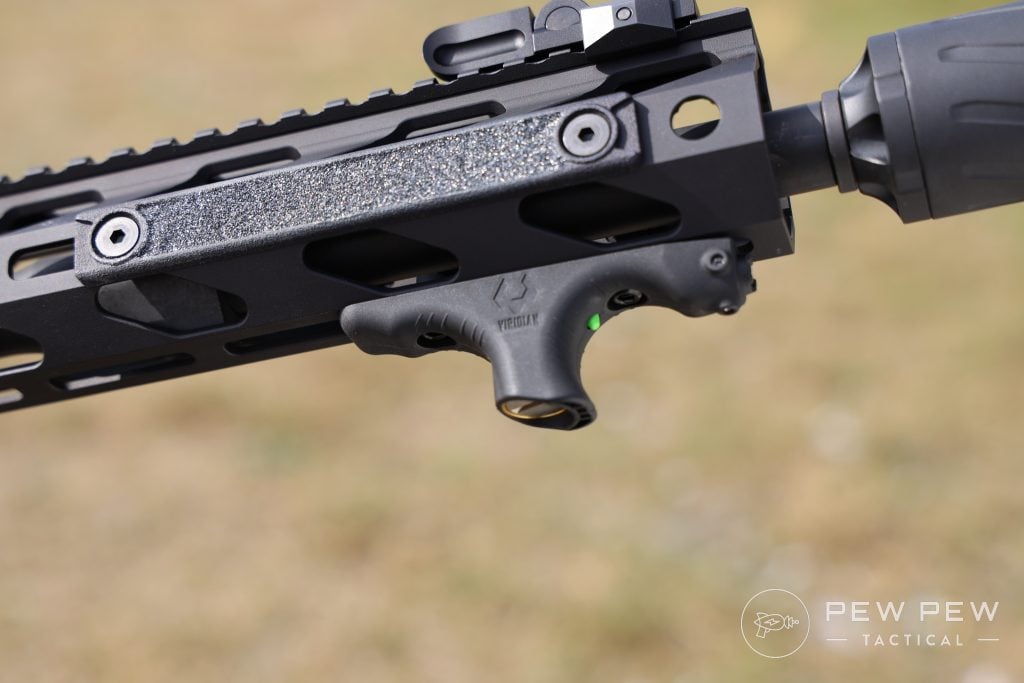 The HS1 mounts directly to M-LOK rails so you can add it to your setup right at the place where you normally grip the gun. This improves your ergonomics while allowing you to place back pressure on the gun, securing it in your shoulder pocket.
The laser is surprisingly bright for such a compact package, plus it can be adjusted for windage and elevation.
8. Steiner DBAL
Ok…here we go pro with a Steiner.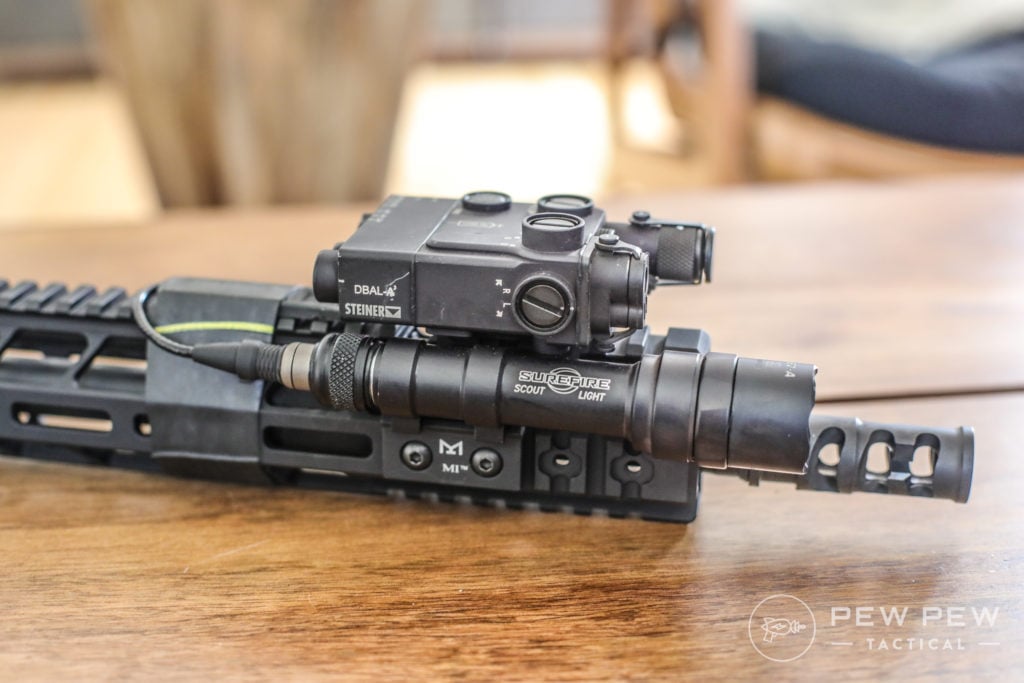 This bad boy combines a green laser with an IR laser and IR illuminator. Essential when combined with night vision.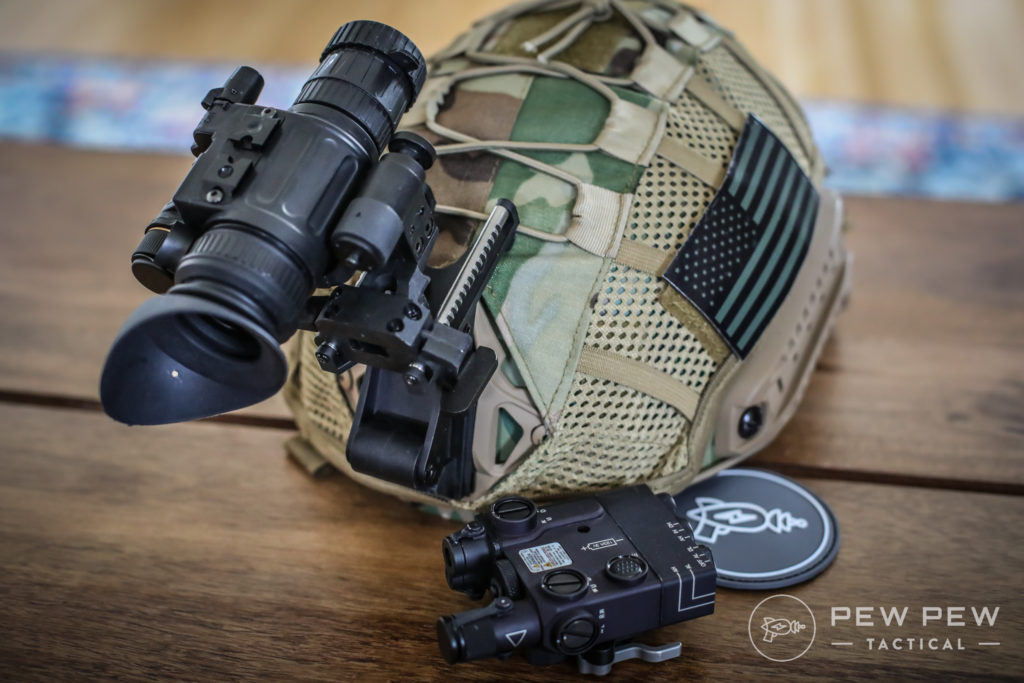 The essential windage adjustments (IR and laser are slaved together) plus fire and different power modes.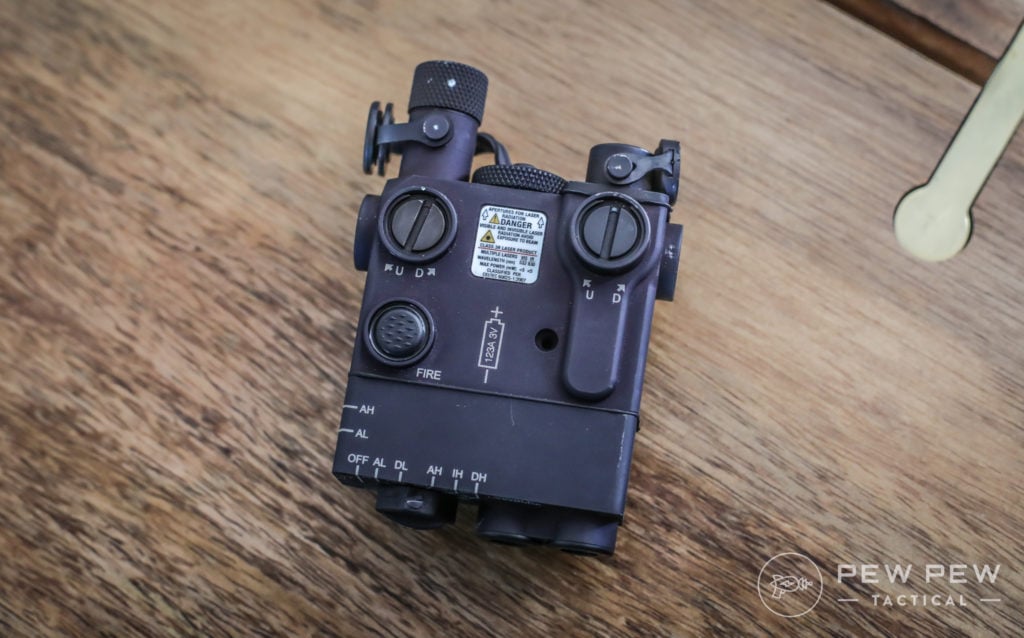 But check out the power on their green laser…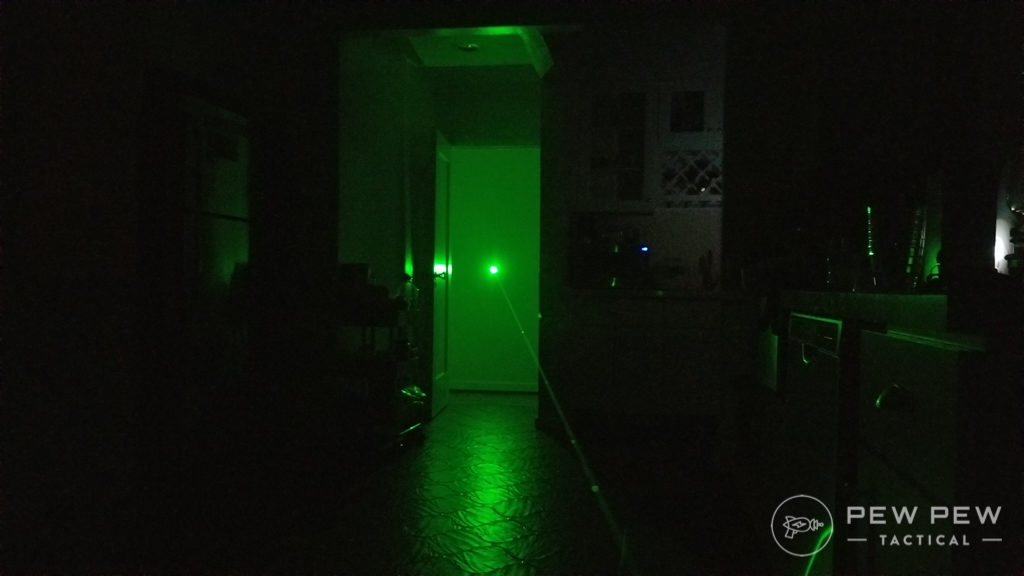 Plus, it never shifted zero over the hundreds of rounds we put through it in the desert.
The front end of business…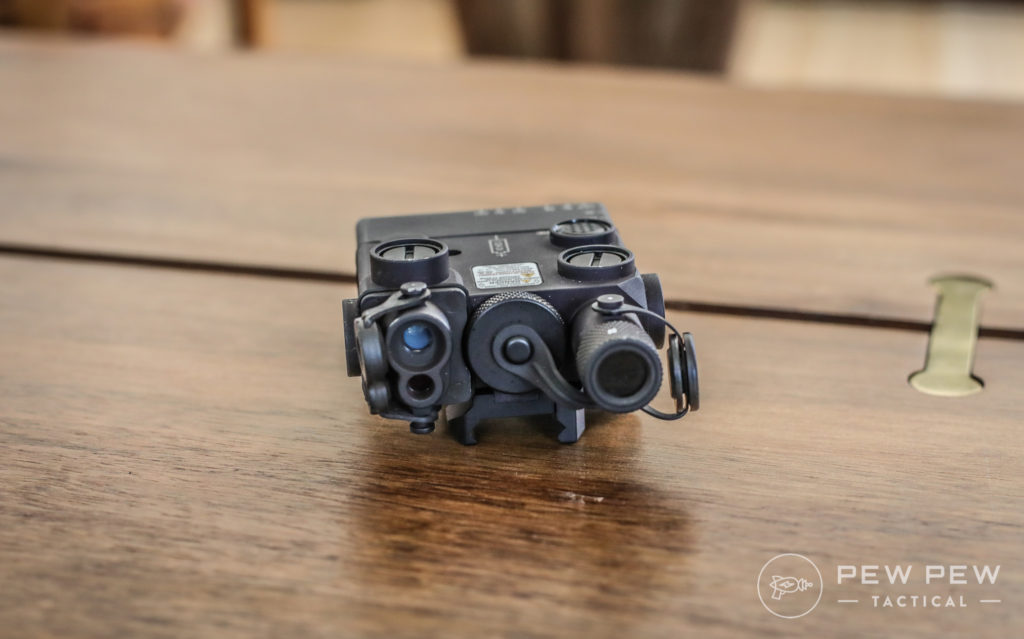 It's not for everyone…but it's my pick if you go the night vision route but still want a (very) visible laser.
Learn more about it in our Best Night Vision Goggles overview.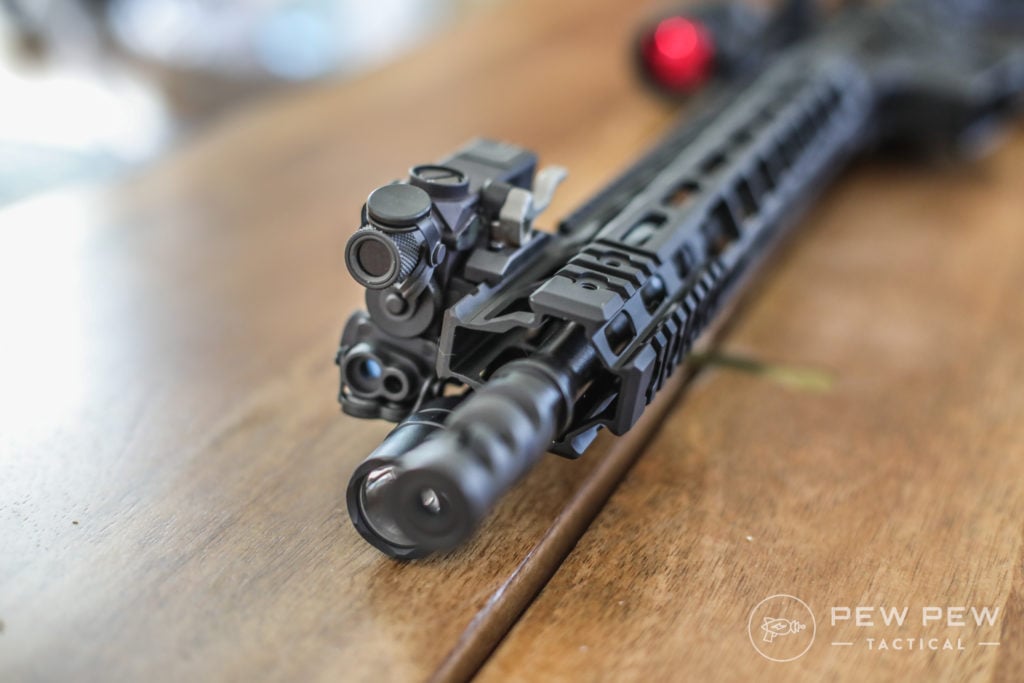 Conclusion
If you want to have quick target acquisition in the dark…go with a laser sight (maybe not 5 at a time).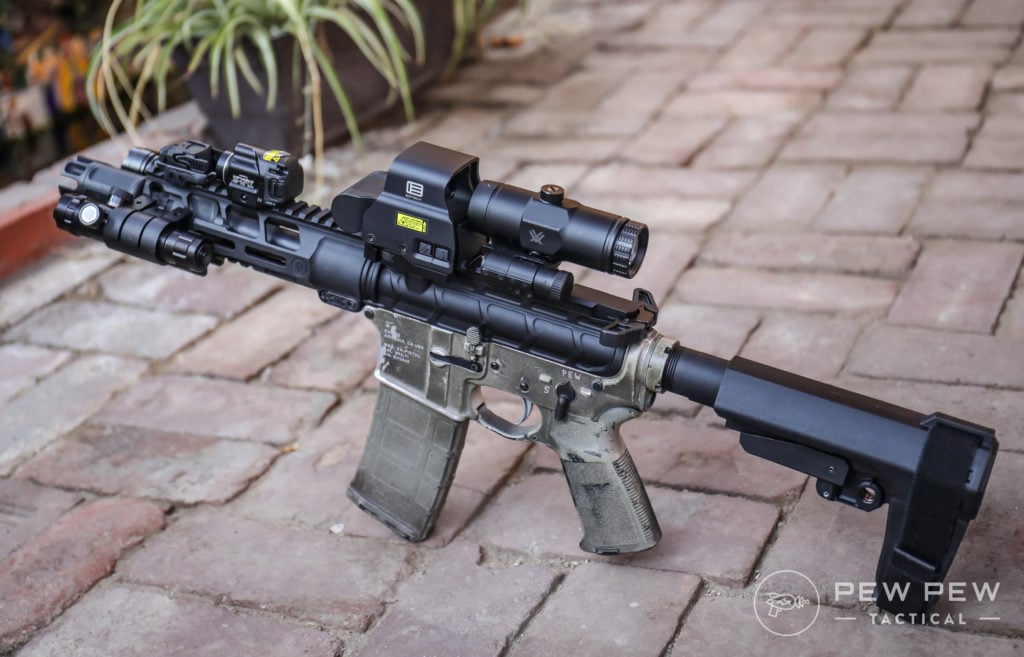 To get into the game for either a handgun or rifle, I recommend Ade to start.
If you want a super bright green laser for your rifle, get the randomly named but surprisingly decent Pinty.
And if you want a great light and laser combo that stays dead nuts zero…get the Streamlight.
Or if a pure green laser in a small format is more your thing…my favorite competition laser is the Crimson Trace.
Lastly…if you're balling out with night vision goggles…you can't go wrong with Steiner.
How did we do? Are you getting your first laser for your AR-15 or handgun? Once you do…check out our Best Pistol Lights and Best AR-15 Lights to complete your nighttime dominance.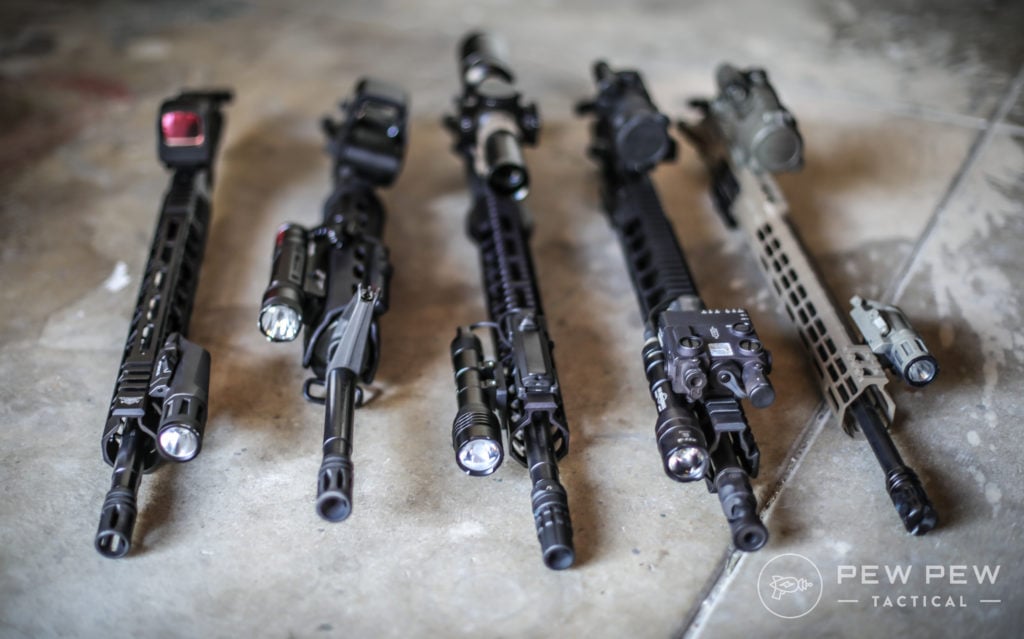 Source
8 Best AR-15 Lasers [Hands-On]: Budget to Pro is written by Eric Hung for www.pewpewtactical.com