Suppressors are practically made for .22 rimfire guns.
If you want to get as close to "movie suppressor" quiet…you'll want to suppress a .22 gun. It gets to the point where the bolt cycling might be louder than the actual bullet.
I'll quickly go over the basics of getting a suppressor then dive into the best choices for a .22 rimfire suppressor.
I'll stick mostly to rimfire specific suppressors but will also show some multi-caliber options.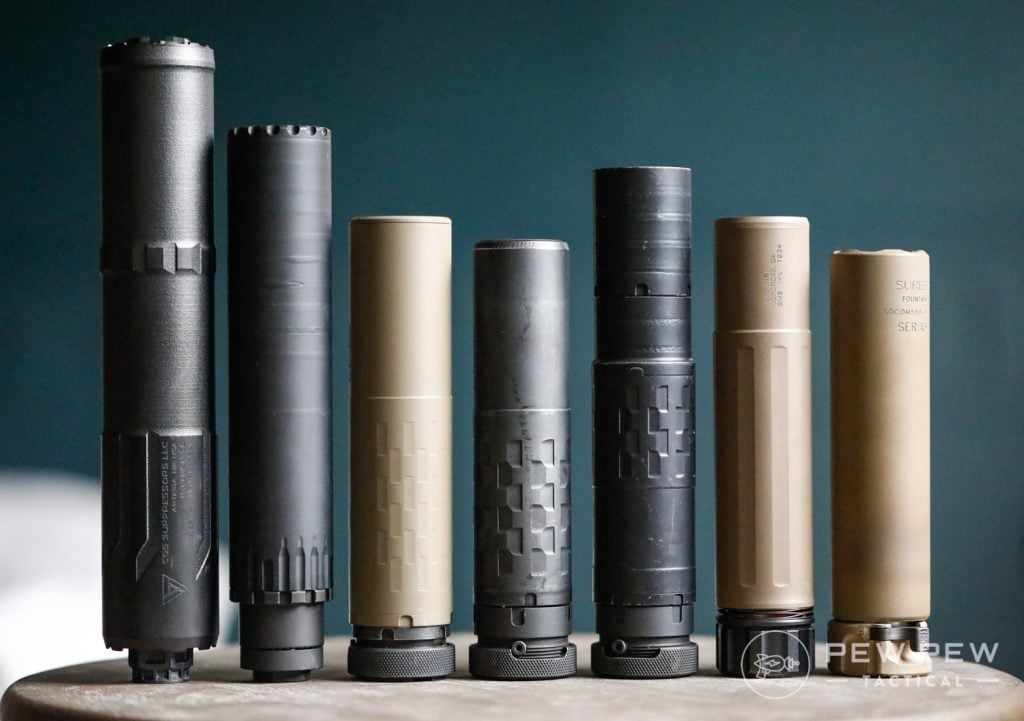 The National Firearms Act (NFA) and You
We have the complete guide to the NFA, but the gist is that in 1934 the government enacted a $200 tax stamp for items such as suppressors.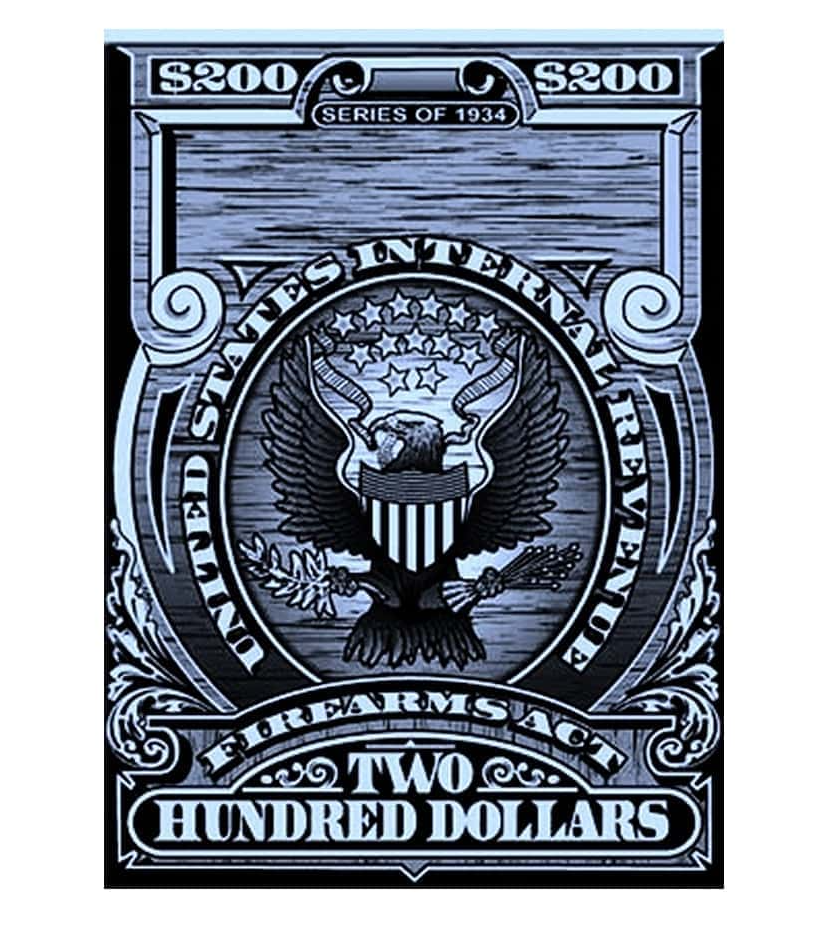 The good thing is that thanks to inflation the $200 is a lot more affordable now than back in the 30s (to the tune of ~$3,800 current dollars).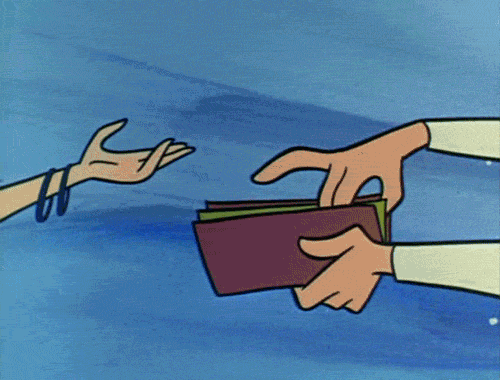 Getting a stamp is easy but you want to do it through a gun trust and not under your individual name.
I've personally used the $79 option through GunTrustGuru and hosted on Capitol Armory, which is one of our go-tos for buying suppressors online.
Then…you just wait a little under a year and you'll be granted the ability to pick up your suppressor.
Or get it shipped to your door if you go with a vendor that has a license in your state.
Decibel Reading Setup
We tried to keep it at least semi-scientific. So we got a Larson Davis SoundTrack LxT-QPR sound level reader and utilized our Ruger Buckmark .22 LR pistol as the basis.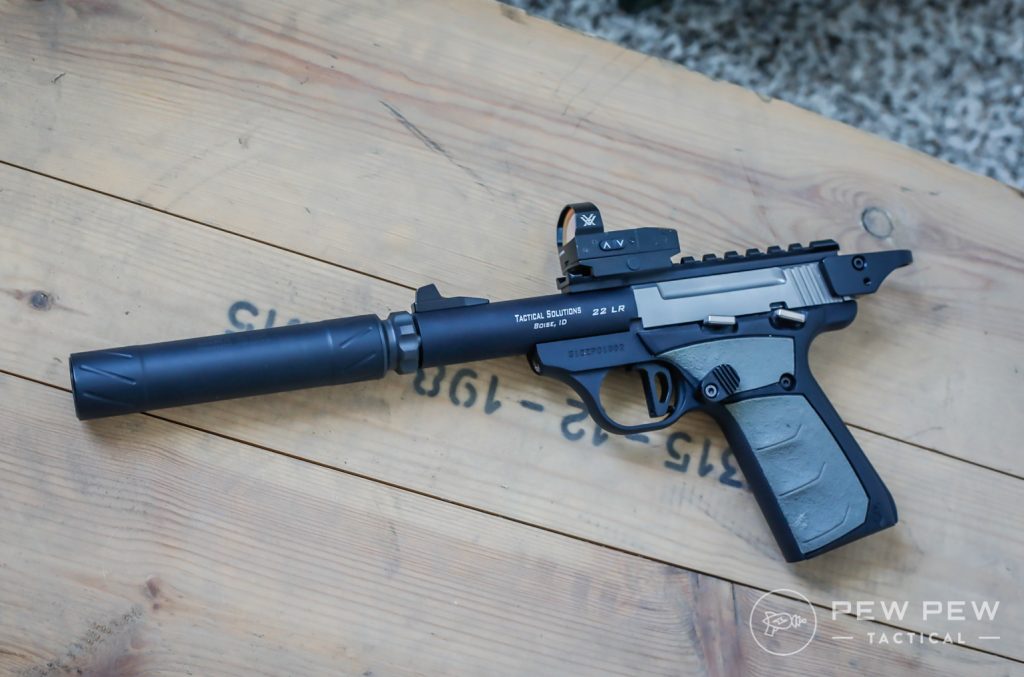 Ammo? We used some supersonic 36-grain stuff we had lying around.
Here's a baseline measurement:
Now without further ado…
Best .22 Rimfire Suppressors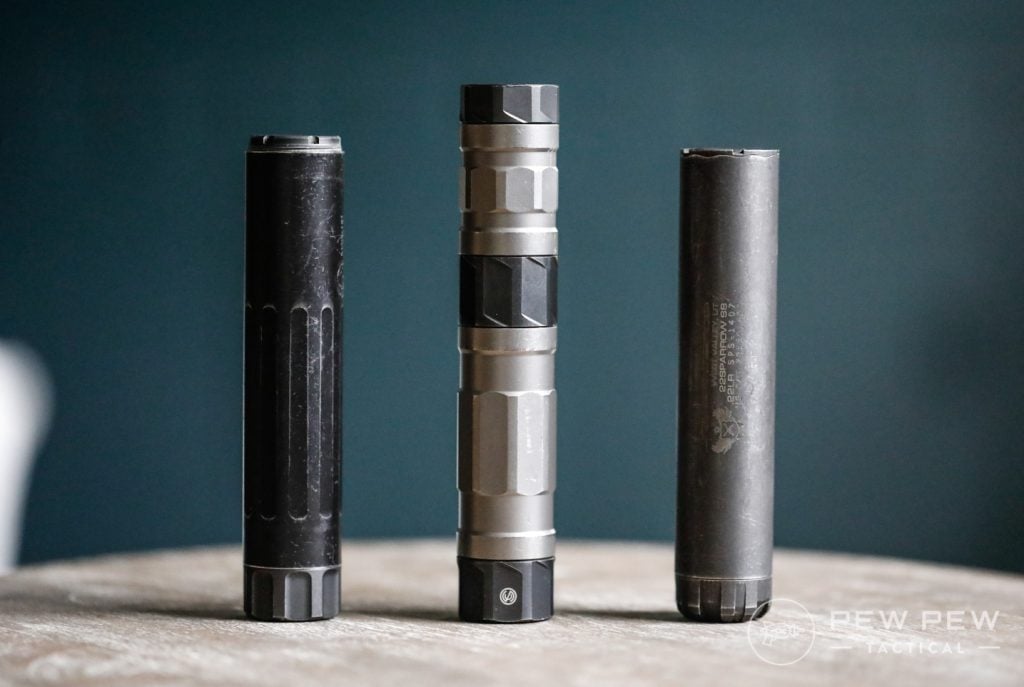 1. Silencer Central Banish 22
We're big fans of Silencer Central cans since they make it so easy to purchase online and then get your silencer delivered to your doorstep.
How?
Remember that license part I said above…they have it for all the ~42 states that allow suppressors.
But enough about them…how does the Banish 22 fare?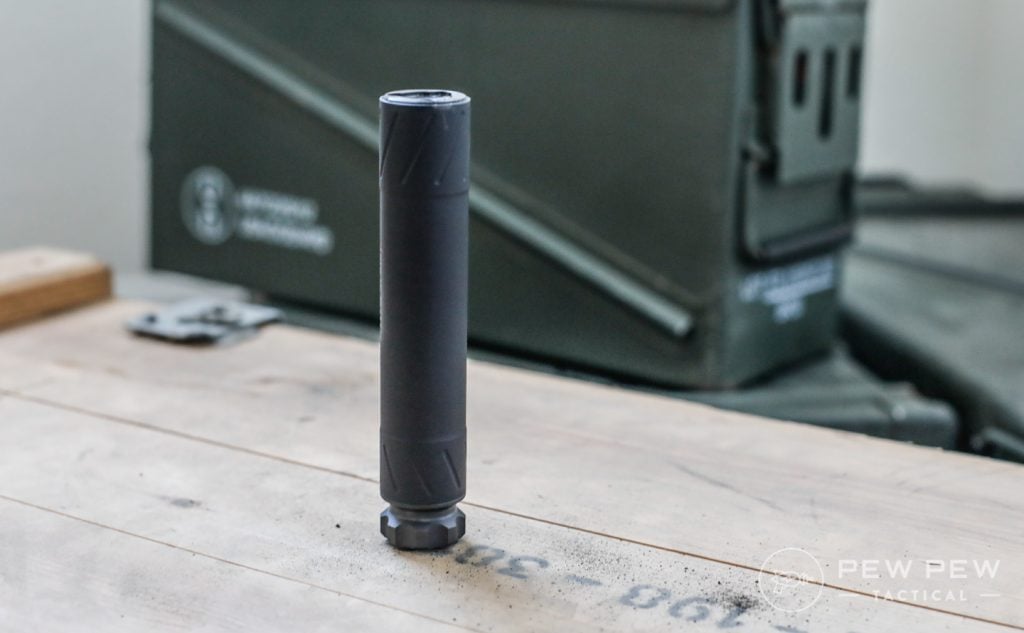 It's a tiny boi and you get a real scale of its size when it's on a .22 handgun.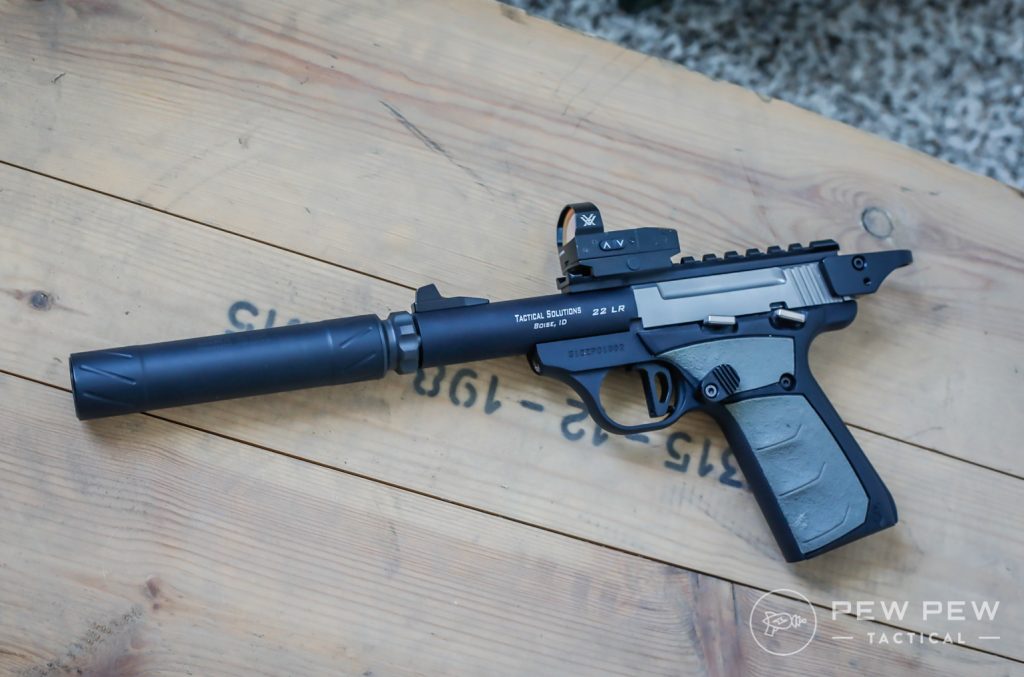 Let's see/hear it in action:
Manufacturer Specs:
Decibel Rating: down to 120dB
Rating: .17 HMR to 5.7×28
Weight: 4.1oz
Diameter: 1″
Length: 5.375″
Construction: Titanium
Mount: direct thread
That 120dB…it's only 10dB louder than a bb-gun and totally hearing safe. And we managed to get closer to the 110dB mark with our tests.
It's also super light being made of titanium and full-auto rated.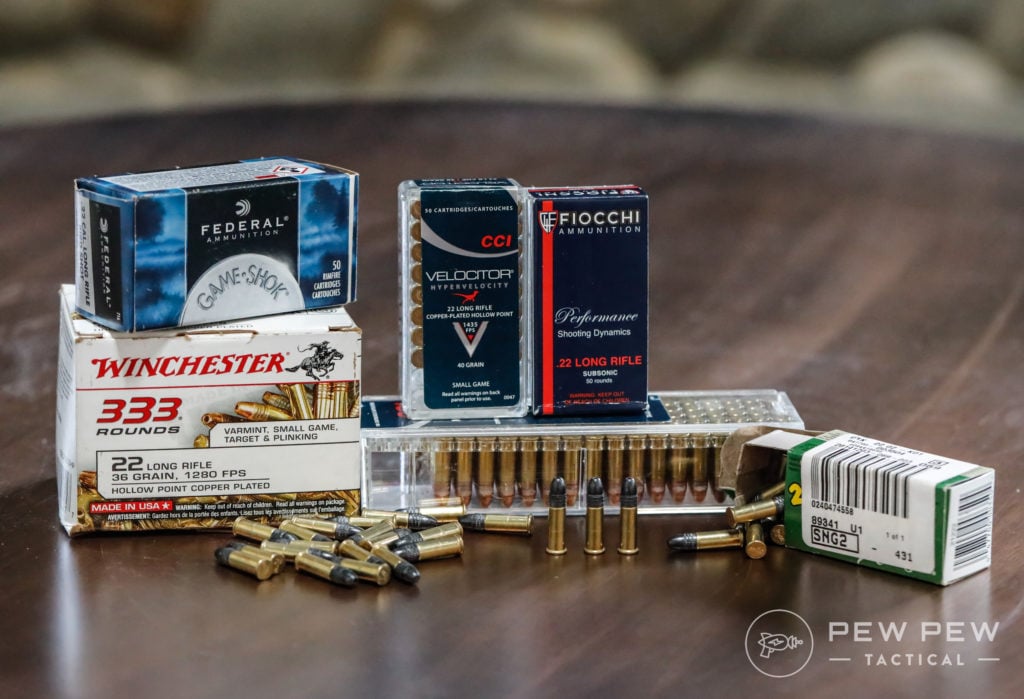 Another good thing for shooting dirty rimfire rounds is the ability to be taken apart and serviced.
Even when I've only shot 100 rounds and taken off the suppressor it drops out carbon flakes. I take out the baffles and throw it into an ultrasonic cleaner every 500 rounds and it's GTG.
If you're looking for a super effective and easy-to-purchase .22 suppressor…check out the Banish 22.
What's your take on the Banish 22?
Also…we've already hands-on reviewed their other cans…the Banish 30 (for rifles) and also the Banish 45 (for pistols).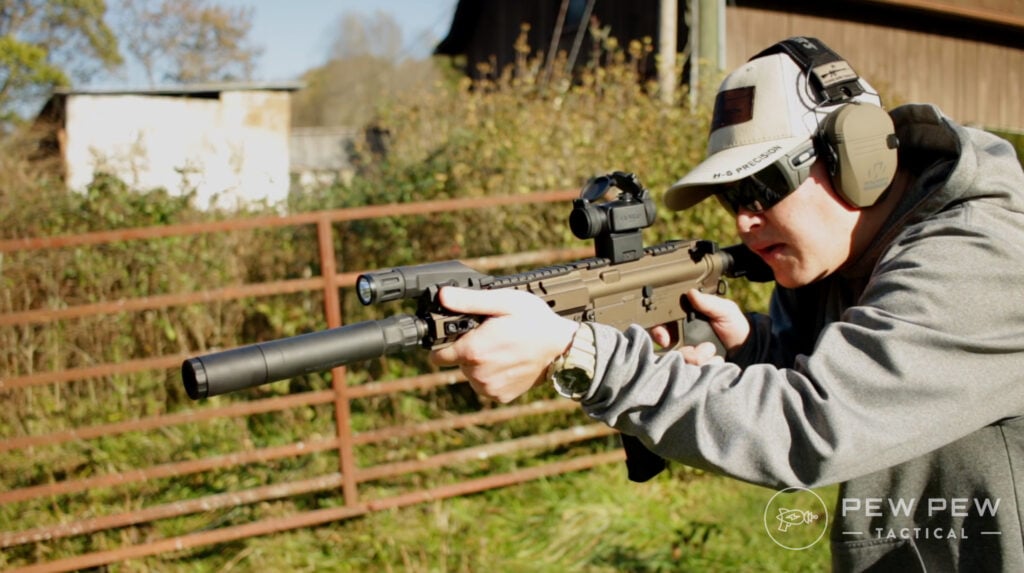 2. Dead Air Mask
Another option rising in popularity is the Dead Air Mask.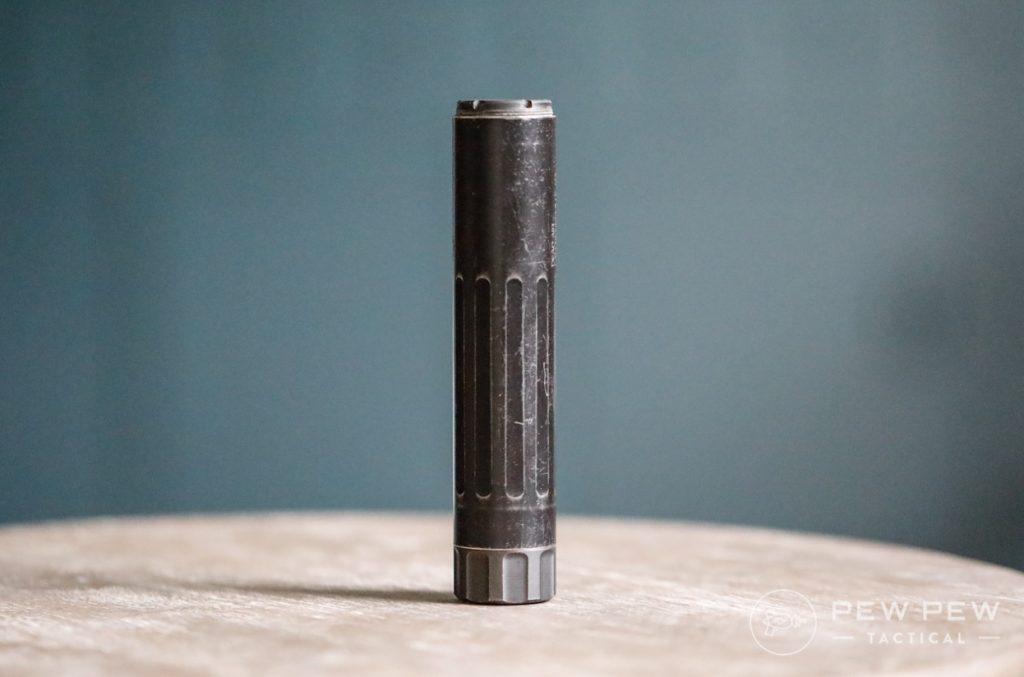 It's full-auto rated…for real.
And has a low first-round pop because of its unique baffle system.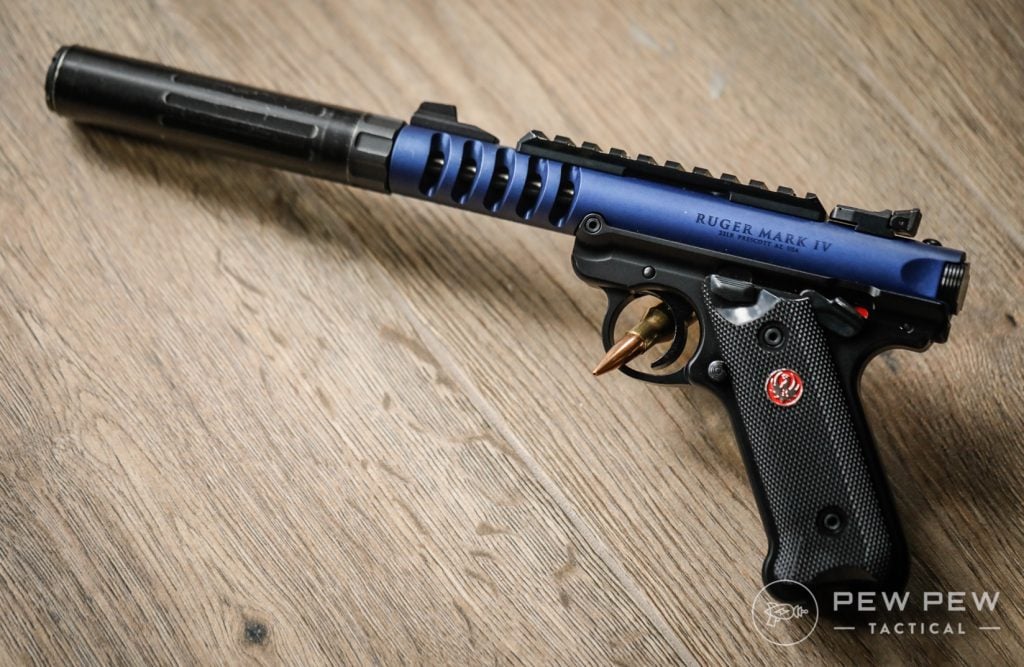 This one has been well used on the Ruger Mark IV along with full-auto .22 LR ARs and keeps on truckin'.
Check it out on the range:
Manufacturer Specs:
Rating: .17 HMR to 5.7×28

Weight: 6.6oz
Diameter: 1.07″
Length: 5.1″
Construction: Titanium and Stainless Steel
Mount: direct thread
It's also user-serviceable so you don't have to worry about all the carbon buildup on the baffles slowing you down.
If you're looking for a heavy-duty .22 LR can with low first-round pop…check out the Dead Air Mask.
3. SilencerCo Switchback
Of course, we have a SilencerCo option here…but it's not the one that everyone is thinking.
Enter the Switchback.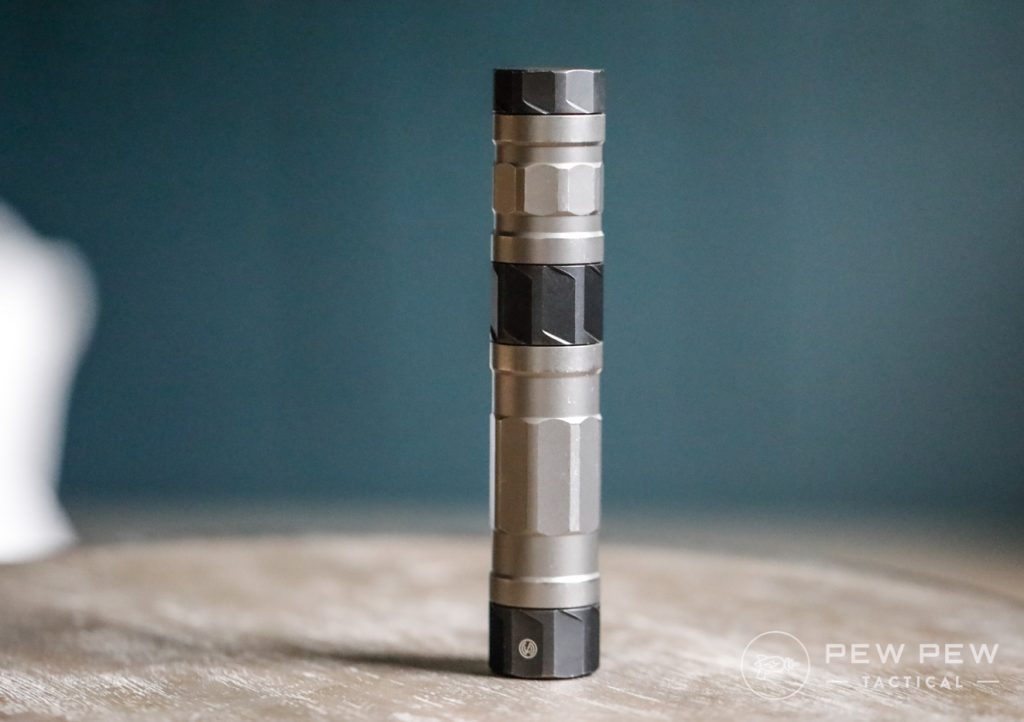 Already instantly recognizable because of its gray/black color scheme…it also allows multiple user configurations based on application.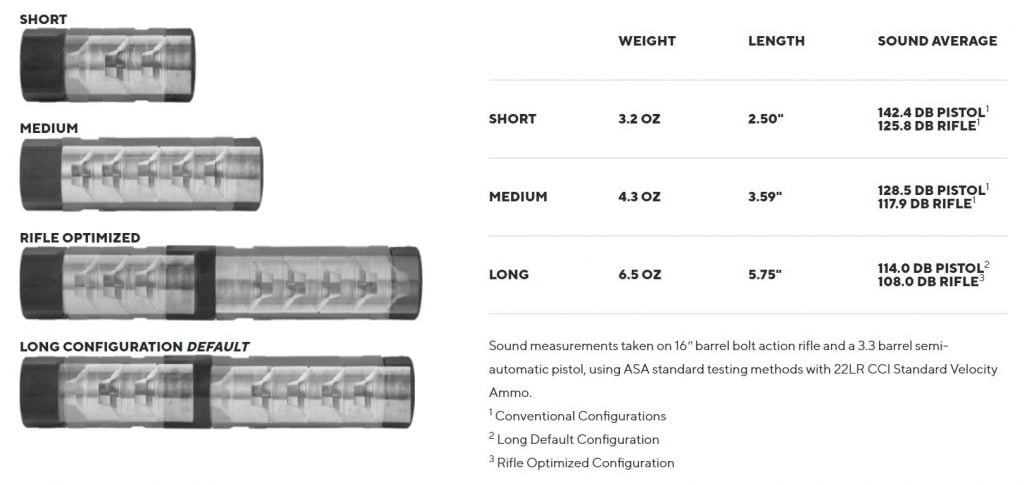 The shortest config makes it just above hearing safe with a pistol…but if length really matters it's a great system.
And if you look carefully…you'll see the right-side baffles are switched for the "rifle optimized" length. Hence its name…mind blown.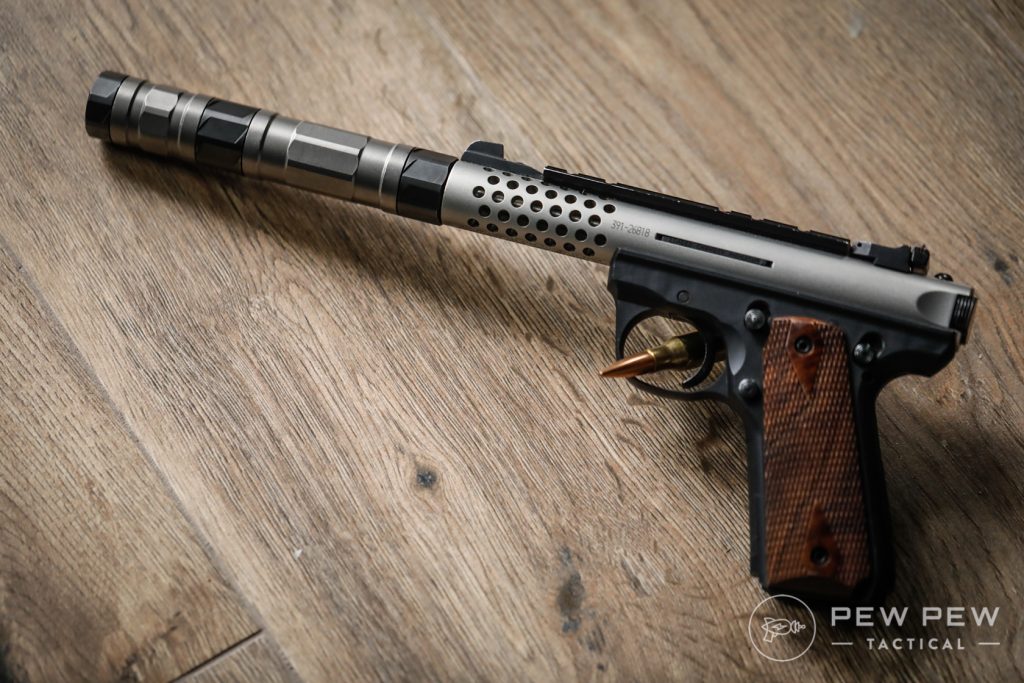 Now let's check out some specs:
Manufacturer Specs:
Rating: .17 HMR to 5.7×28

Weight: 3.2-6.5oz
Diameter: 1.07″
Length: 2.5-5.75″
Construction: Titanium and Stainless Steel
Mount: direct thread
And how does it shoot?
If you're looking for something super modular that can go super short…and also be optimized for rimfire rifle…you can't go wrong with the Switchback.
4. SilencerCo Sparrow
This is the one you know that would make the list of best .22 suppressors.
The SilencerCo Sparrow.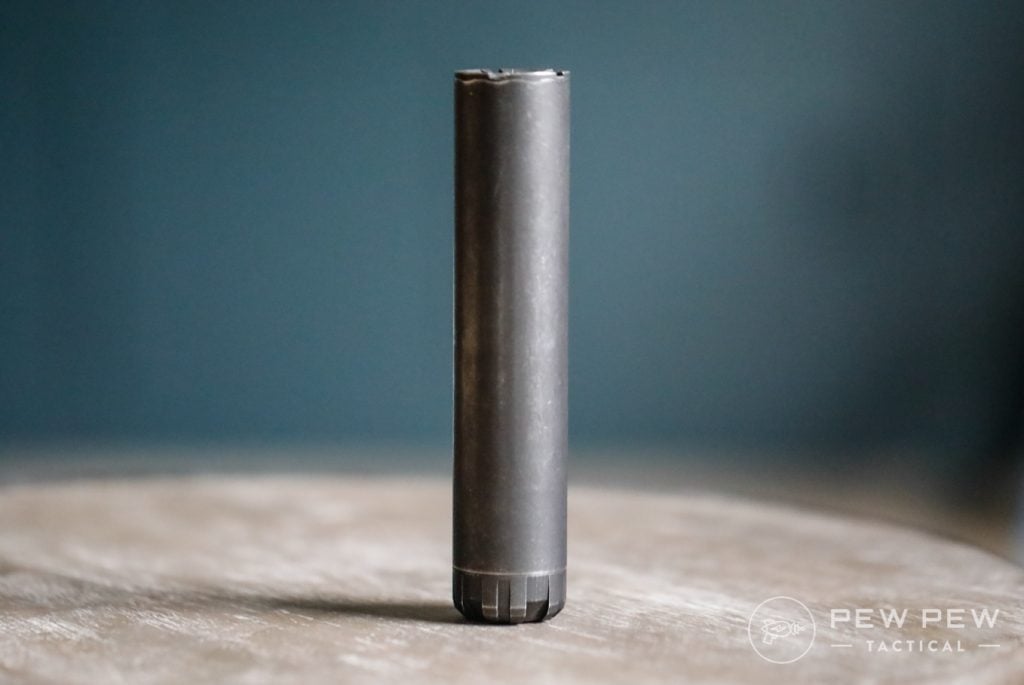 While the other options used baffle systems inside…the Sparrow uses a monocore that looks like a pipe with cut-out designs.
This makes it ridiculously easy to service…and also lowers its production cost.
However, one downside is that it's only full-auto rated for .22 LR…but is that really a problem for most given ammo cost nowadays?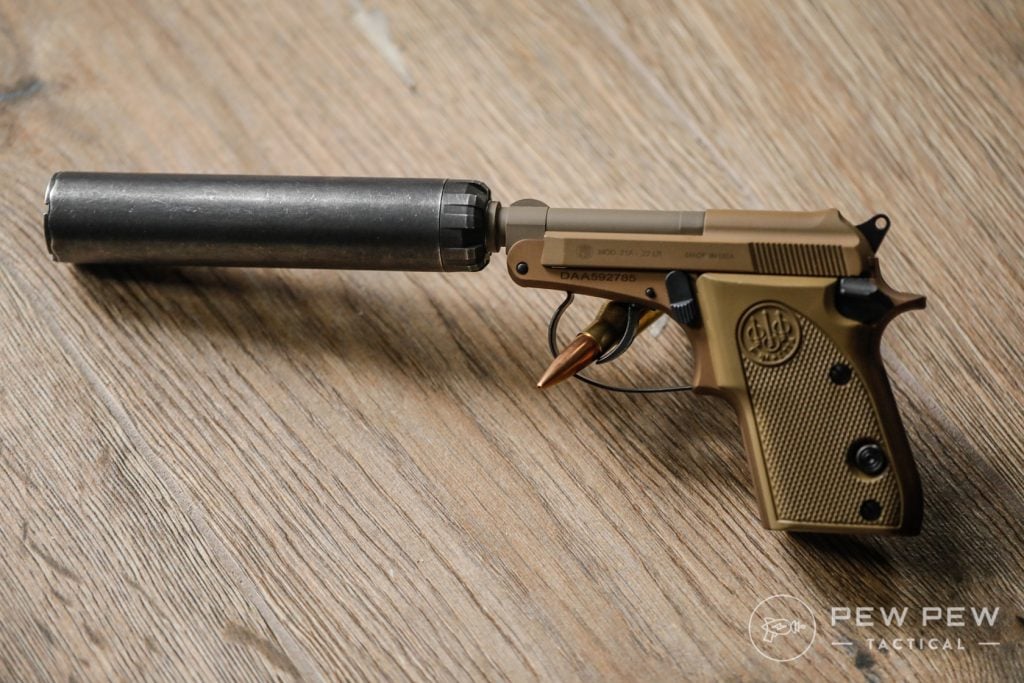 Manufacturer Specs:
Decibel Rating: .22LR: 112.7dB, 5.7×28: 127.7dB

Rating: .17 HMR to 5.7×28

Weight: 6.5oz
Diameter: 1.06″
Length: 5.08″
Construction: Stainless Steel
Mount: direct thread
That 112.7dB for .22 LR is ridiculous! Again that is Hollywood quiet and the sound of impact on steel or your action is going to exceed the actual round coming out.
We couldn't get it down quite as low but we were using supersonic ammo. If you go subsonic you'll probably hit it.
And because it's monocore construction? You're looking at just above $300 for the SilencerCo Sparrow. Plus the tax stamp for Uncle Sam, of course.
How About Multi-Caliber Suppressors?
We've gone through the rimfire-specific suppressors…but what about multi-cal options?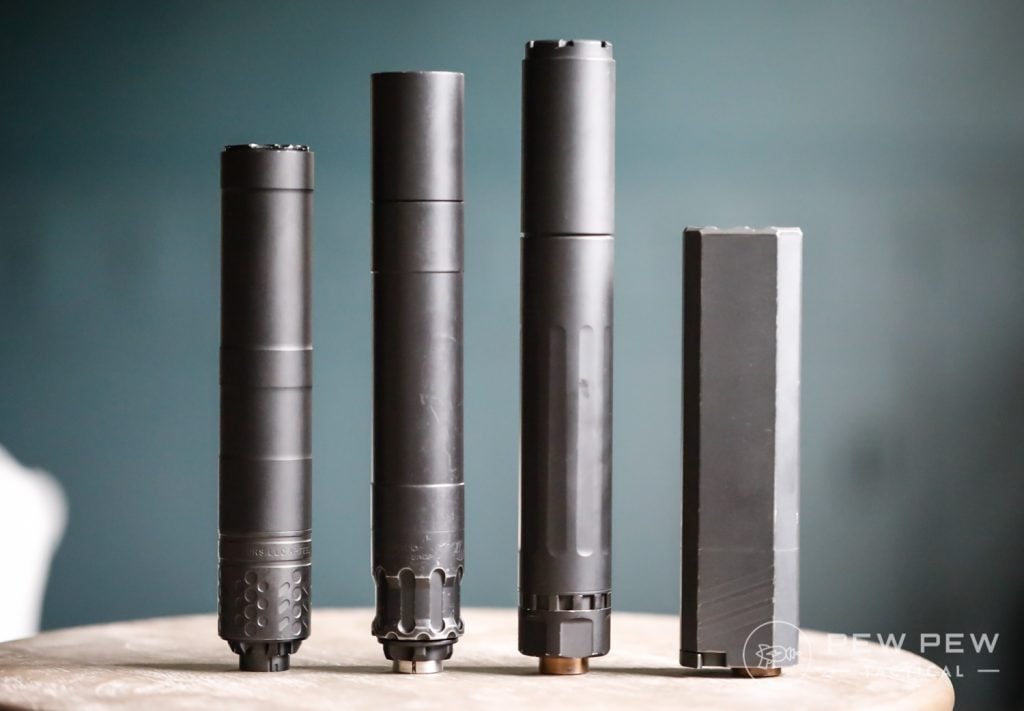 Multi-caliber suppressors are kinda cool because they can work alongside rimfires and centerfires.
Though they can suppress a multitude of calibers, what's really cool is that they can mount to various platforms.
Essentially, you get more bang for your buck…and who doesn't love that!
We really dig Silencer Central's Banish line but we have a whole article dedicated to AR-15 suppressors with some great multi-cal options. Check it out here!
Conclusion
Shooting a suppressed gun is a serious blast. These nifty devices not only reduce noise but tame recoil and muzzle rise as well. This makes shooting so much more comfortable.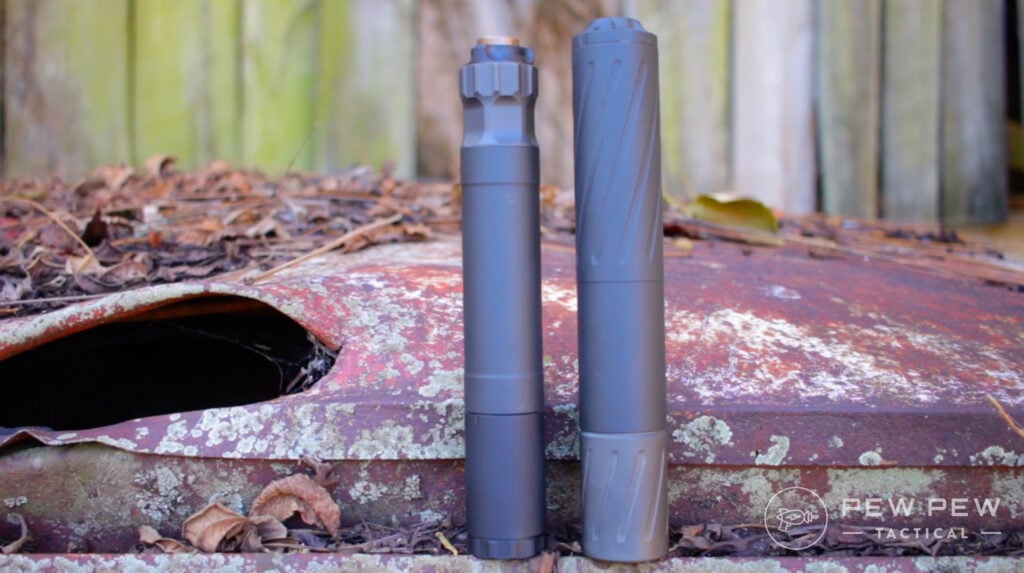 Hopefully we gave you a good taste of the best .22 LR suppressors out there.
What are your feelings on suppressors? Let us know in the comments! Not sure where to buy one…check out Best Places Online & Off to Buy Suppressors.
Source
4 Best .22 Rimfire Suppressors [Tested] is written by Eric Hung for www.pewpewtactical.com